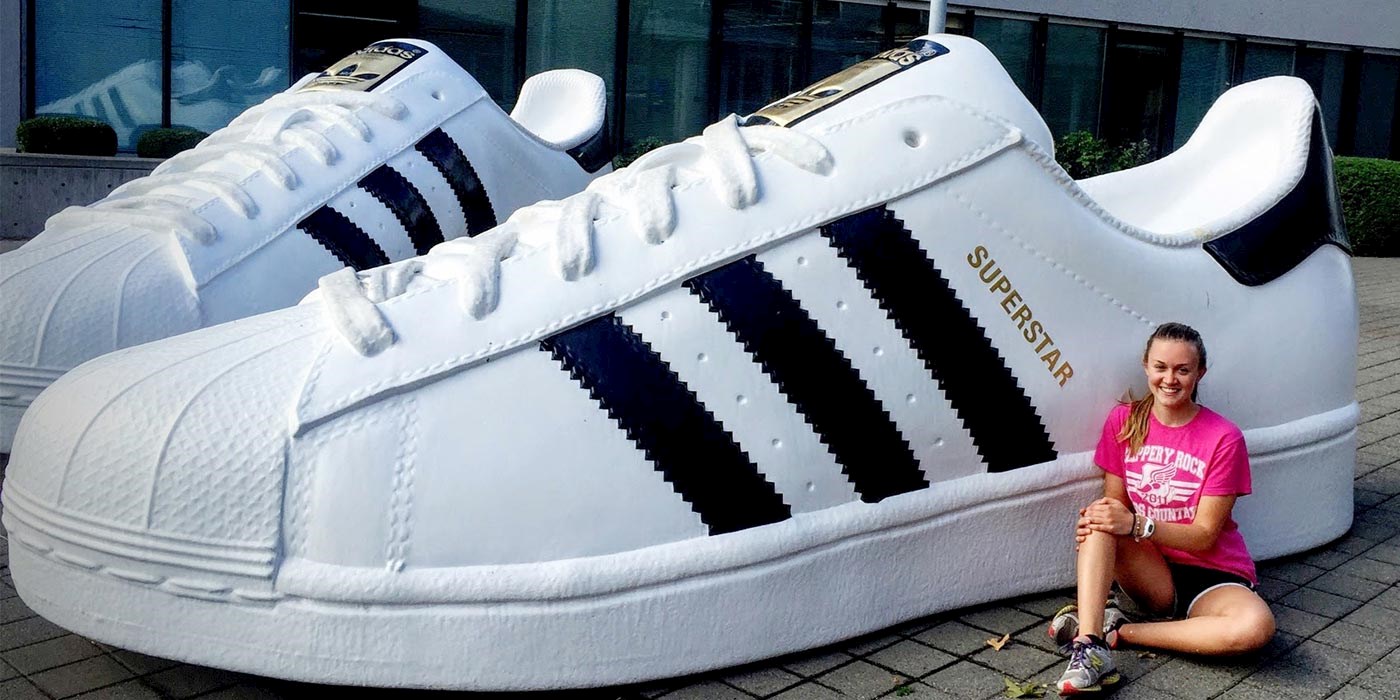 Elise Hall (E 2014) was struggling to find a career niche that excited her.
"Many of the traditional areas of MSE, like metallurgy, just didn't seem to suit me," recalled the graduate from Carnegie Mellon University's Materials Science and Engineering department in the College of Engineering. "I was already debating what to do after graduation … Where did I want to work? Should I continue on to earn an M.S. and a Ph.D.? Nothing seemed like the right choice."
Then Hall read an article in the Winter 2013 edition of her department's newsletter, MSE News, which changed everything. The story described how a team of MSE alumni were working together as doctoral students in the Sports and High-Performance Materials research program at the University of Southern Mississippi (USM). Their doctoral research was focused on using innovative materials to solve pressing challenges in athletic equipment — for example, creating footwear that mitigates overuse injuries and understanding how headwear can reduce concussions.
"Something just clicked," Hall said. "As a runner and an athlete, these were materials challenges I found fascinating and relevant to my own life. I knew this was the career niche I had been looking for."
Hall emailed one of the alumni, Nadine Lippa (E 2008), who introduced her to Dave Krzeminski (E 2007). After learning of Hall's excitement about athletic apparel engineering, Lippa and Krzeminski wanted to help jumpstart her career.
The two helped Hall secure a summer internship at USM, funded by the National Science Foundation under its Research Experiences for Undergraduates program.
"For the 10 weeks I was in Mississippi, I couldn't wait to get to work every morning," Hall said. "I was studying the degradation of ethylene-vinyl acetate materials in running shoes. I knew I had finally found my niche."
Based on this research, Lippa and Hall co-authored a paper that won the Student Investigator Prize and the Adidas Footwear Prize at the International Sports Engineering Association conference.
Following graduation, Hall interned at Under Armour. Then, on the recommendation of Lippa and Krzeminski, she completed a master's degree in Sports Engineering at Sheffield Hallam University in the United Kingdom.
Meanwhile, Lippa and Krzeminski defended their doctoral theses and accepted postgraduate positions at Adidas World Headquarters in Germany.
Last September, Hall began work as a mechanical engineer at Adidas' U.S. headquarters in Portland, Ore. Although Lippa and Krzeminski have moved on to engineering positions with Gentex Corp., which specializes in helmet systems, Hall is glad that she reached out to connect with them and grateful for the relationship they built. "Even though they're gone from Adidas, we certainly stay in touch and will continue to do so as we have over the years," she said.
"From what I've observed, MSE alumni [such as Lippa and Krzeminski] are incredibly passionate about what they do," she added. "They want to achieve their goals. But they're always willing to help other members of the MSE community achieve their goals, too. I'm so grateful for the support I've received from Nadine and Dave. And I'm grateful to MSE for bringing us together."
Lead image: Hall has some big shoes to fill at Adidas' U.S. headquarters located in Portland, Oregon.