As the country marks the 15th anniversary of 9/11, a Carnegie Mellon University alumna continues to encourage hope and healing in a unique way.
Regina Ress, an award-winning storyteller, actor, writer and educator, travels throughout the country to perform "Compassion, Generosity and Grace: Stories from 9/11."
The stories grew out of Ress' experience that tragic day, living just one and a half miles from Ground Zero. She witnessed the horror of the towers falling and the incredible outpouring of "guerrilla volunteerism" in her locked-down neighborhood. From her window, she watched dump trucks and sanitation workers gathering on a playground to coordinate their work. On the streets she saw Mother Teresa's nuns making sandwiches, volunteers bringing piles of dry socks and cookies. A relief worker who had come from Tennessee told her, "Ma'am, this is my first non-natural disaster," to which she replied, "This is my first non-natural disaster too."
Eager to stress the positive —"negativity and violence is not the whole story," she said — her presentation begins with these impressions, and includes her time teaching at a neighborhood middle school just days later, telling restorative folk tales and listening to the children's stories of community outpouring. These images are interwoven with other poignant and sometimes funny stories.
"People are very moved," Ress said. "Last week, a woman who worked in a Ground Zero respite center reminded us that what you see on TV is either terrifying or sentimental, but this is human stuff. Nobody talks about heroes like the sanitation workers down in 'The Pit' cleaning it out and holding back the river."
Frances Madeson, who attended Ress' recent presentation in Taos, N.M., agrees. "Fifteen years later, Regina is still finding relevance and inspiration to mine from her personal experiences, and sharing it with wit and intelligence," Madeson said.
Ress said her performances have roots from her college days. She enrolled at Carnegie Mellon University, then known as Carnegie Tech, to study English, history and teaching, though she never strayed far from her love of drama, becoming a member and president of Scotch'n'Soda Theatre.
"At Carnegie, I had the opportunity to be involved with some terrific theater work, but also got intellectually brilliant, practical teacher training under Dr. Lois Fowler," she said. "Some of the finest training that you can imagine."
After earning a bachelor's degree in 1964, Ress pursued acting, but with the birth of her son, she changed direction. Inspired to put positive images in front of children and by a chance encounter with a famous storyteller, Diane Wolkstein, she combined her interests in performance, language, teaching and culture into a "perfect fit."
"You could say storytelling is a performance art. but it's a serious teaching art as well, because the old stories are all about survival in the world," she explained. "And folk tales operate on many levels. You can tell the same story to 5-year olds and adults; each group hears something different."
Through the years, Ress has performed mythology, folk and personal stories in English and Spanish, from Broadway, Brazil and the White House to schools and homeless shelters. She was the recipient of a National Storytelling Network grant and their Oracle Awards for leadership and excellence. Today, Ress performs, teaches applied storytelling to graduate level students at New York University, and produces a storytelling series, among her numerous projects and activities.
"I like to address tough issues through storytelling because you're not lecturing," Ress said. "You can talk about what's going on in the world indirectly through these incredible, moving stories."
And of all her stories, she says none is more moving than those of the acts of kindness that took place under New York's smoke filled skies 15 years ago.
Ress' next performance of the stories will be at the Mid-Manhattan branch of the New York Public Library on Sept. 27.
In Memoriam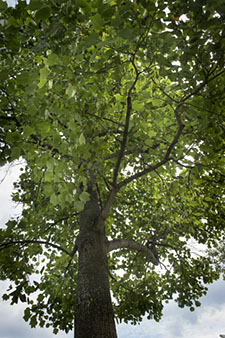 Seven CMU alumni were among those who perished on Sept. 11, 2001.
Dietrich College graduates Lawrence Kim (1997), Norma Lang Steuerle (1969) and Matthew D. Yarnell (1997); Tepper School alumni Gary Lasko (1965), Alan Linton (1997) and Jonathan Uman (1990); and College of Engineering graduate Frederick Kuo Jr. (1969) are gone but will never be forgotten.
CMU's 9/11 Memorial Tree, planted in Oct 2001.
Photo credits: Regina Ress photographed by Ari Ress; 9/11 Memorial Tree photographed by Tim Kaulen