Internationally Renowned Industrial Designer Named to School of Design's Nierenberg Chair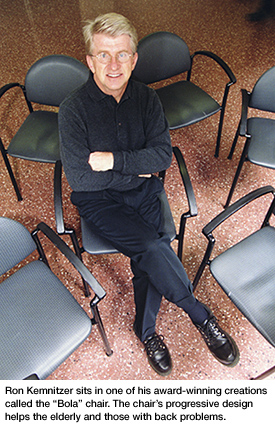 Carnegie Mellon's School of Design has named internationally renowned industrial designer Ronald B. Kemnitzer to its prestigious Nierenberg Chair of Design. The visiting professorship is widely regarded as the most prestigious and significant appointment in design education in the U.S.
A practicing industrial designer, Kemnitzer holds more than a dozen U.S. patents. His portfolio includes an array of products used throughout many fields, from windshield scrapers and a laser range finder for hunters and golfers (recently banned by the P.G.A. for its accuracy) to appliances and many medical apparatuses, from surgical tools to pharmaceutical dispensing systems. In 2001 he was the recipient of the Good Design Award from the Chicago Athenaeum Museum of Architecture and Design.
"Ron brings a unique blend of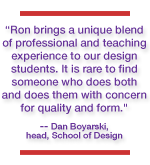 professional and teaching experience to our design students," said Dan Boyarski, head of Carnegie Mellon's School of Design. "It is rare to find someone who does both and does them with concern for quality and form. On top of that, Ron is a down-to-earth and sincere person—an excellent role model for our students."
"If you had to list the people on two hands who are the major forces in industrial design education in the U.S., Ron's name would be one of them," said Steve Stadelmeier, chair of Carnegie Mellon's Industrial Design Program. "He's a wonderful blend of being a significant figure in the design community and being interested in sitting down and working with students, one issue at a time, to bring them along. Nierenberg Chairs [usually] have a highly visible, public face and a less noticeable one-on-one side. Ron's presence is strong in both."
Kemnitzer credits Henry Dryfess, designer and author of "Designing for People," for his broad experiences in industrial design. One of Kemnitzer's major creations is the "Bola" chair, which won first place from the Institute of Business Designers. The chair's progressive design helps the elderly and those with back problems. Carnegie Mellon's Posner Hall houses more than 100 of the Bola chairs.
"I'm looking forward to learning about Carnegie Mellon from the inside," said Kemnitzer. "What for years has been my distant admiration of Carnegie Mellon's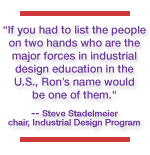 reputation and infrequent contact with a few valued colleagues is now a daily opportunity to explore issues of great interest with students and faculty. I fully expect to learn more than I teach."
Kemnitzer earned his bachelor's degree in design from the University of Cincinnati and his master's degree in design from Northern Illinois University. He has taught industrial design at Michigan State University, Kansas City Art Institute and the University of Kansas. An active member of the Industrial Designers Society of America (IDSA), Kemnitzer has served three terms on the organization's board of directors and was a founding member and first president of IDSA's Kansas City Chapter.
The Nierenberg Chair of Design was established through the generosity of Carnegie Mellon alumnus and Emeritus Life Trustee Theodore D. Nierenberg, a founder of Dansk International Designs.
The School of Design is one of five schools in Carnegie Mellon's College of Fine Arts. The College of Fine Arts is a community of nationally and internationally recognized artists and professionals organized into five schools: Architecture, Art, Design, Drama and Music, and their associated centers and programs.
Eric Sloss