CyLab Aims to Ensure Safety, Privacy for All Computer Users
New initiative builds on the computer security and education efforts for which Carnegie Mellon is known worldwide
Advances in computer technology unfortunately come along with security vulnerabilities that can harm everyone from the home computer user to small businesses, large corporations and anyone dependent on the nation's telecommunications and financial systems. To counter that threat, Carnegie Mellon University has launched a security initiative designed to protect all computer users from interference by cyber terrorists and hackers.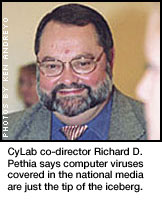 The initiative, Carnegie Mellon CyLab, brings together computer security efforts under way in three of the university's schools and its CERT Coordination Center. CyLab will work in collaboration with industry and government, with the aim of having security technology readily accessible across the globe. Co-directors are Professor Pradeep Khosla, head of the Electrical and Computer Engineering Department, and Richard D. Pethia, director of Carnegie Mellon's CERT Coordination Center.
"Cybersecurity is a problem for all of us," said Carnegie Mellon President Jared L. Cohon at a campus press conference announcing the initiative. "Every time anyone anywhere logs onto a computer, they become part of a network at risk. And, though they are unlikely to be aware of it, they are contributing to that risk."
Cohon said CyLab is designed to work with speed and great efficiency to shore up security breaches that can compromise the Internet-based electronic ties that enhance communications, services and networks.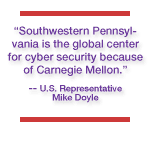 Pethia noted the increasing occurrences of identity theft and listed some of the viruses that have wreaked havoc on computer systems in the past few years. "Those kinds of things that get covered in the national press are just the tip of the iceberg," he said.
More than 114,000 incidents of virus attacks and other computer breaches were reported to the CERT Coordination Center during the first nine months of 2003. The problem won't be solved without advances in technology, Pethia said, and CyLab is expected to lead the way in that endeavor.
"We're not getting out of this mess by using today's information technology," Pethia said.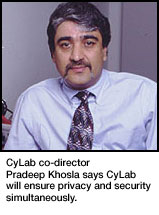 Khosla noted that education is a necessary component of safeguarding the computer network. He said an estimated 150 million people are on the Internet every day, and "not everyone is a security expert." Because individual computers can be hijacked to destroy and confiscate data in an ever-widening circle, it's important that a critical mass of users be trained to recognize and thwart security threats. CyLab's goal is to make 10 million citizens around the world wise to cyber security within three years.
"We want to be secure and private simultaneously," Khosla said.
CyLab's education program will be directed by Carnegie Mellon's Information Networking Institute, which Khosla also heads. Nonprofit organizations, schools and the U.S. Department of Homeland Security will assist in disseminating information to the public.
U.S. Representative Mike Doyle (D-14th District, Pa.) was instrumental in obtaining funding of $2.5 million last year for Carnegie Mellon's cyber security efforts and $6 million this year for CyLab. After Doyle spoke at the press conference, he noted that Carnegie Mellon's outstanding reputation for computer security smooths the way for obtaining funding from Congress. Local and university leaders hope CyLab will spin off jobs in the region.
"Southwestern Pennsylvania is the global center for cyber security because of Carnegie Mellon," Doyle said.
The interdisciplinary team that will make up CyLab includes more than 50 researchers and 80 students from Carnegie Mellon's College of Engineering, School of Computer Science, the H. John Heinz III School of Public Policy and Management and the CERT Coordination Center. The center, which is part of Carnegie Mellon's Software Engineering Institute, is a federally funded research and development center sponsored by the U.S. Department of Defense. The CERT/CC also partners with the Department of Homeland Security in the activities of the US-CERT, a coordination point to prevent, protect from, and respond to Internet attacks.
For more information, visit http://www.cmu.edu/PR/releases03/031022_newinitiative.html
Ruth Hammond