Actor Ted Danson Headlines Prestigious Group of Alumni Award Winners
Recipients honored for their achievements in entertainment, engineering, business and science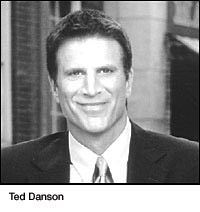 Ted Danson, a household name since he played Sam Malone in NBC's hit sitcom "Cheers," heads a group of eight Carnegie Mellon alumni who will be honored for their professional achievements and service to the university on Friday, Oct. 24, during Homecoming Weekend.
Danson, a 1972 graduate, will receive the Distinguished Achievement Award, the Alumni Association's highest level of distinction given for notable achievement and leadership. From "Cheers," which aired on NBC from 1982 to 1993 and is currently in syndication, to roles in a number of network miniseries and major motion pictures, Danson has enjoyed more than three decades of success as an actor and producer.
Danson joins seven other distinguished alumni receiving awards this year. They are costume designer Ann Roth (A'53), chemical oceanographer Frank Millero (S'64, 65), businesswoman Candace Sheffield Matthews (E'81), director and choreographer Rob Marshall (A'82), composer and writer Ricky Ian Gordon (A'80), businessman Alex Condron (IM'89) and scientist Jennifer H. Elisseeff (S'94).
For more on this year's recipients visit the Web at http://www.cmu.edu/cmnews/031004/031004_alumniaward.html