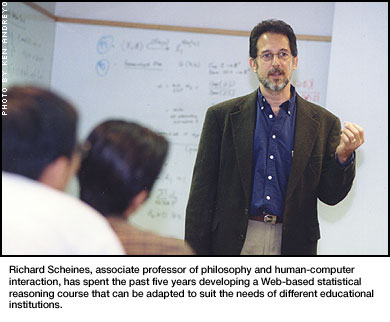 University Exports Technology to New Jersey's Centenary College
Centenary College, a liberal arts school in Hackettstown, New Jersey is using educational technology developed at Carnegie Mellon as a platform for revising much of its curriculum in what could be a model for how other institutions use Web-based university courses.
Centenary has already redesigned its business programs based on an online statistics course that is part of Carnegie Mellon's Open Learning Initiative (OLI). OLI is a collaboration initiated by several Carnegie Mellon faculty and staff members, including cognitive scientists and experts in human-computer interaction, to create a series of online courses.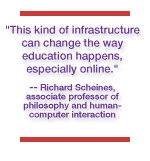 Centenary's new business courses will be rolled out this fall. In addition, the college plans to offer a blended (partially online and partially in-person) version of the OLI statistics and causal and statistical reasoning courses to adult students enrolled in the college's Center for Adult and Professional Studies accelerated degree granting program. Centenary officials also plan to offer a version of those courses to traditional students in order to provide tools to enhance quantitative reasoning skills. By 2004, those courses — or some combination of them — could replace several basic mathematics courses for Centenary students.
Richard Scheines, associate professor of philosophy and human-computer interaction at Carnegie Mellon, has spent the past five years developing a Web-based causal and statistical reasoning course to teach students to infer causality in social science research. The course includes 100 case studies and a "causality lab" in which students simulate the process of collecting data to support or disprove a hypothesis. An instructor can fine-tune the course continuously depending on the strengths and weaknesses of his or her students.
"I'm really excited because this kind of infrastructure can change the way education happens, especially online," Scheines said.
Carnegie Mellon last year received a $1.9 million grant from The William and Flora Hewlett Foundation to develop four original introductory-level courses in OLI. Causal reasoning is among the four; the others are statistics, economics and logic. A fifth course, chemistry, has been added recently. These courses are designed to provide templates for successful online education, and as Centenary College demonstrates, the courses can be adapted to each institution's needs.
"We look forward to collaborating with Carnegie Mellon on this project," says Debra Fleming, vice president for learning, assessment, and technology and professor of accounting at Centenary College. "The benefits of implementing such a program, which will allow us to incorporate the world's best methods in our teaching processes, are enormous for our students."
Jonathan Potts