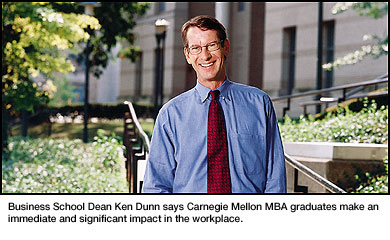 Wall Street Journal Ranks Carnegie Mellon MBA 6th Worldwide
University Rated Best in Operations Management
The Wall Street Journal has announced that Carnegie Mellon's MBA program ranks sixth among 266 full-time MBA programs worldwide. This year's survey represents the opinions of 2,191 corporate recruiters. It is the third consecutive year that Carnegie Mellon has ranked among the top 10.
"The Journal's ranking captures the perspective of executives who work with Carnegie Mellon MBAs," said Ken Dunn, dean of Carnegie Mellon's business school. "Our brand of business education—leadership in business technology and analytical decision-making— enables our graduates to make a more immediate and significant impact in the workplace."
Carnegie Mellon's MBA also was recognized for excellence in four academic concentrations: operations management (No. 1); information technology (No. 2); quantitative analysis (No. 2); and finance (No. 5). The program also ranks first with technology recruiters; second among small schools (schools with a full-time MBA enrollment of less than 500); and fifth among private schools.
The survey sent to recruiters contained questions on school attributes (such as quality of past hires, faculty expertise and content of core curriculum) and student attributes (such as leadership potential, analytical and problem-solving skills, and strategic thinking). The complete rankings report can be found at www.careerjournal.com.
The Carnegie Mellon MBA program features an analytic approach to global business management. Founded in 1949, it is recognized as the pioneer of quantitative problem solving with a reputation for creating new ways to transfer knowledge. The school's groundbreaking research, particularly in the areas of corporate finance, global macroeconomics and operations research, continues to serve as the basis for business decisions and academic research.
For more on the rankings visit http://www.careerjournal.com/specialreports/bschool04/
Michael Laffin