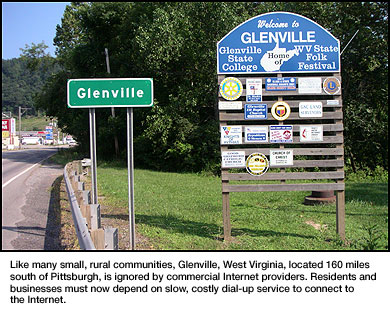 Researchers Receive $250,000 Grant to Develop High-Speed Wireless Internet Access in Rural Appalachia
High-speed wireless Internet access is still a dream for many residents of Appalachia, a 200,000 square-mile region from the spine of the Appalachian Mountains in Southern New York to Northern Mississippi. But, the dream will soon become a reality for residents of rural Glenville, West Virginia.
The Appalachian Regional Commission (ARC) and the Claude Worthington Benedum Foundation have given researchers at Carnegie Mellon University's Center for Appalachian Network Access (CANA) $250,000 to implement a new, wireless broadband network linking Glenville to the rest of the world via high speed wireless Internet connectivity.
Glenville, a town of 2,000, is located in an isolated part of central West Virginia, about 160 miles south of Pittsburgh and 85 miles north of Charleston. Like many small, rural communities, it is overlooked by commercial Internet providers. Residents and businesses must depend on slow, costly
dial-up service to connect to the Internet.
CANA was co-founded earlier this year by Bruce Maggs, associate professor of computer science, and Pittsburgh investment banker John Whitehill. Its purpose is to bring the Internet to Appalachian communities like Glenville and raise the literacy and economic profile of the region.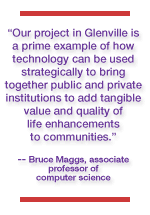 Broadband connectivity allows high-speed transmission of large amounts of data, including multimedia and video. According to Maggs, this new high-speed connectivity should have a lasting impact on the Glenville economy.
"Wireless Internet means that geographic isolation can no longer keep rural communities from conducting commerce with the greater world," Maggs said. "Our project in Glenville is a prime example of how technology can be used strategically to bring together public and private institutions to add tangible value and quality of life enhancements to communities."
For two week this past July, Maggs, Whitehill and others related to the School of Computer Science, the Heinz School and the business school collaborated with members of Glenville's business, educational and government sectors at "Camp Glenville, " on the campus of Glenville State College (GSC), to begin the ongoing project of building the new network.
"Students were not just installing hardware, they interviewed people about their needs, and getting the service set up to turn it over to the community," said Maggs, who hopes to have the first subscribers online within two to three months.
The new broadband network is a continuation of several technological and educational initiatives started by Larry R. Baker, associate vice president of technology at Glenville State College who leads the effort for the Glenville community.
"I have been delighted with the commitment and excitement for the project that has been demonstrated by our political, community and college leaders," Baker said. "Members of the community and the college will continue to look for additional partners as we continue to implement the project."
In addition to Maggs and Whitehill, an alumnus of Carnegie Mellon's
e-commerce master's degree program, others affiliated with Carnegie Mellon who are working on the project include project manager Todd Hashiguchi, a business school master's degree student; Michael Caplan, director of student affairs in the business school; Tyrone Wrice, associate director of career services at the Heinz School; Scott Leff, an e-commerce program alumnus; and recent Heinz School graduates David Hammond, Erin Andrew, and David Weither.
Others include Jevan Saks, a recent School of Computer Science (SCS) graduate, Maverick Woo, an SCS doctoral student, and Konstantin Andreev, a doctoral student in the university's Mathematics Department.
Congress established the Appalachian Regional Commission in 1965 to support economic and social development in Appalachia. The ARC programs include parts of 13 states, and all of West Virginia.
The Claude Worthington Benedum Foundation is located in Pittsburgh and makes grants in West Virginia and Southwestern Pennsylvania.
Anne Watzman