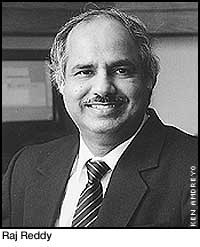 Raj Reddy to Head Silicon Valley Campus
Provost Mark Kamlet has appointed Raj Reddy, the Herbert A. Simon university professor of computer science and robotics, to head Carnegie Mellon's future campus in Silicon Valley.
School of Computer Science (SCS) Dean Jim Morris said Reddy, former dean of SCS, will spend a "significant fraction of his time" in Silicon Valley for the next few years focusing on establishing a new master of science program in information technology. Morris said the pilot education program would begin this January with about 20 students.
"He's (Reddy) a giant in the field of computer science," said President Jared L. Cohon. "He'll be a great leader on our West Coast campus."
Morris said Reddy is "a famous and first-class faculty member, who gives the project great credibility."
Earlier this summer SCS named Brian Reid as its first faculty member to be headquartered in Silicon Valley. Reid will have an important role in the fledgling High Dependability Computing Consortium, which the university established with NASA late last year.
"As a principal research scientist, Brian is going to oversee research and teach in our dependability projects," Morris said. "He brings broad experience in software development, strong academic credentials and an outstanding track record in industrial R&D to this new position."
For the past 12 years, Reid has worked in industrial research and development organizations in Silicon Valley. Most recently, he was a department head at Bell Labs Research.
Carnegie Mellon signed a Memorandum of Understanding with NASA in January 2000 to explore creating a branch campus at the NASA Ames Research Park in Moffett Field, Calif. Silicon Valley officials are now studying the project's environmental impact and the university is developing a business plan for the campus.
Tax-Free Graduate Tuition Reinstated
Effective Jan. 1, 2002, Section 127 of the Internal Revenue Code, which permits Carnegie Mellon to grant tax-free graduate tuition up to $5,250 per year to employees, will be reinstated. Graduate tuition before Jan. 1, 2002, will be subject to taxation. Section 127 originally expired on June 30, 1996.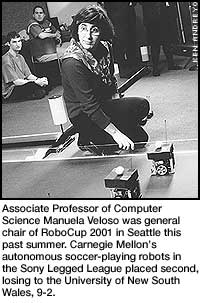 "CM Pack 01" Takes 2nd Place at RoboCup 2001
"CM Pack 01," Carnegie Mellon's autonomous soccer-playing robot team in the Sony Legged League at RoboCup 2001 last month in Seattle, placed second behind the University of New South Wales. New South Wales defeated Carnegie Mellon, 9-2, in the championship contest.
Carnegie Mellon's teams in the small, middle-sized and simulation league were eliminated in round-robin play, however the university was the only American team to finish as high as second-place in a division finals.
In the small-sized league championship, Ngee Ann Polytech of Singapore defeated Singapore Polytechnic 3-0. In the middle-sized league final, the University of Freiburg, Germany, defeated Osaka University of Japan 1-0. In the simulator league championship, Tsinghua University of China defeated the University of Karlsruhe, Germany, 1-0.
Carnegie Mellon was a host, sponsor and participant in RoboCup 2001. More than 110 teams of autonomous soccer-playing robots from 23 countries competed on the floor of the Washington State Convention and Trade Center. Associate Professor of Computer Science Manuela Veloso was general chair of RoboCup 2001 and Robotics Institute Research Scientist Tucker Balch and alumnus Peter Stone were associate chairs.
In addition to Veloso, Balch and Stone, Carnegie Mellon participants included doctoral students Ravi Balasubramanian, Michael Bowling, Brett Browning, James Bruce, Scott Lenser, Will Uther, Rosemary Emery, Ashley Stroupe, Steve Stancliff, Paul Carpenter, Patrick Riley and Gal Kaminka, master's student Kevin Sikorski and undergraduate Martin Hock.
Division of University Advancement Created
The Division of University Relations and the Division of Development and Alumni Relations are being restructured to form a new Division of University Advancement (www.cmu.edu/advancement/).
The new division is headed by Vice President for University Advancement Robbee Baker Kosak. Kosak, formerly vice president for development and alumni relations, joined Carnegie Mellon in January 2000. Before coming to the university she was vice president for advancement at Rensselaer Polytechnic Institute and vice president for university relations at Bucknell University. Kosak began her career at Carnegie Mellon in 1979 as associate director of alumni relations.
Kyle Fisher Morabito, assistant vice president for university relations since 1995, has been promoted to associate vice president in the new division. She will be responsible for marketing and media relations. Other associate vice presidents in the University Advancement Division are Sharon Navoney and Ron Schiller.
Director of Government Relations Maureen McFalls, who previously reported to the vice president for university relations, will now report directly to President Jared L. Cohon.
Former Vice President for University Relations Don Hale left the university last June to become vice president for public affairs at the University of Texas at Austin.
"I have decided on this new course because of exciting opportunities that lay before us," said President Cohon. "I believe the creation of an advancement division can best help us realize these opportunities."
Cohon said the new division will address institutional visibility, branding and marketing strategies based on the university's strategic plan. These strategies will be applied to fundraising, alumni relations, public relations, recruitment, research partnerships, technology transfer, student relations, community relations and economic development.
Communications Design Department Formed
University Publications has joined the Media Design Center to form a new Department of Communications Design. The new department integrates planning, design and production services for publications, Web, multimedia, video and special projects.
This multidisciplinary approach to marketing communications will help the university develop more effective messages and materials to better realize its strategic marketing and branding objectives. Communications Design will continue to serve campus clients with more convenient, effective and versatile communications services.
For more about the new department, visit the Web at www.cmu.edu/advancement/commdesign/.
Communications Design is part of the newly formed Division of University Advancement.
"SA Cash" Extends CampusXpress to Off-Campus Purchases
Carnegie Mellon has entered into an agreement with Student Advantage (SA) Inc. that will allow students, faculty and staff to use their CampusXpress account off campus beginning this fall.
Members of the university community with CampusXpress accounts can currently purchase goods and services on campus by presenting their university identification card. The "SA Cash" program will enable individuals with CampusXpress accounts to use their ID card to make purchases from off-campus vendors as well.
Participating off-campus vendors include Super Photo, Chesapeake Bagel Company, Platter's, Star of India, Thai Place Cafe, West Coast Video and Boston Market. A more detailed listing of all participating merchants will soon be available.
"This program will provide new oppor-tunities for students, faculty and staff to purchase a wide variety of products and services without the need to carry cash," said Neal Binstock, assistant vice president for business services.
To open a CampusXpress account, visit the HUB in the lower level of Warner Hall. A $15 fee will be charged to open the account.
Electricity Industry Center to Improve Energy System
Carnegie Mellon researchers have secured a $1.75 million grant from the Alfred P. Sloan Foundation and the Electric Power Research Institute to form a new Electricity Industry Center. The center's goal is to make the electricity industry more competitive and to improve the nation's energy system by developing new approaches to the generation, distribution, marketing and use of electricity.
The center also aims to change perceptions about the industry, create new business opportunities and provide technical expertise to various public policy issues.
Granger Morgan, professor and head of the Engineering and Public Policy Department, and Lester Lave, the James H. Higgins university professor of economics, will be the center's co-directors. Alex Farrell, a senior researcher, will be executive director.
RedSiren Buys CMRI's CyberSecurity Center
RedSiren Technologies Inc., a security services provider that offers remote security monitoring and management, has signed a definitive agreement to acquire Secure360, the CyberSecurity Center of the Carnegie Mellon Research Institute (CMRI).
As part of the agreement, RedSiren and Carnegie Mellon will pursue a collabora-tive research and development relationship that will apply the university's expertise to enhance the state-of-the-art design and implementation of RedSiren's security knowledge base.
"Through its affiliation with Carnegie Mellon, Secure360 brings some of the top minds in cybersecurity to RedSiren," said Harvey Pollack, president and chief executive officer of RedSiren.
Architecture to Compete in 2002 Solar Decathlon
The School of Architecture has been selected to compete in the U.S. Department of Energy's Solar Decathlon. Carnegie Mellon students must design and construct a solar energy, self-sufficient, two-story home on the National Mall in Washington, D.C., in October 2002. During the event, only solar energy available within the perimeter of each house may be used to generate the power needed to fuel the facility.
Each team will also design a Web site and create printed materials explaining their structure, and provide house tours to the public. The projects will be judged on energy efficiency and design merit.
The faculty adviser for the project is Professor Thomas Spiegelhalter of the School of Architecture's Urban Design Laboratory and Center for Building Performance and Diagnostics.
Compiled by Edmund Delaney
(01/09/06)