Teamwork and Collaboration
The Andy Award for Teamwork and Collaboration honors staff teams who exemplify collaboration and cooperation with colleagues, students and the university community and recognizes its transformative impact. The team has developed new approaches, methods and systems to improve organizational effectiveness or has improved the student experience and/or student's learning opportunities. It has demonstrated imagination and creativity in solving problems or fostering change that benefits the university community.
Criteria include accomplishing a task that makes a positive and recognizable difference in the university community, building successful collaborative relationships across different groups and creating an environment that promotes communication, trust, cooperation and respect for differences.
2021 Award Recipient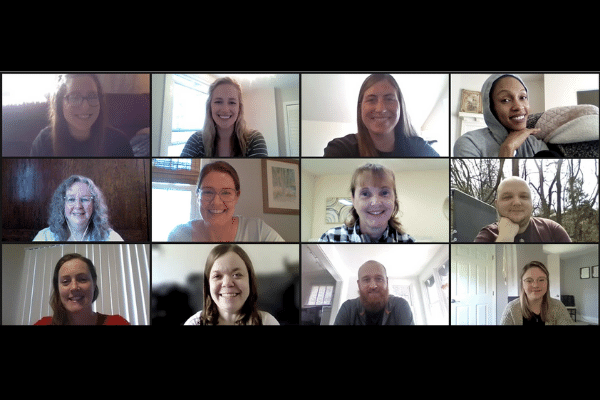 The Contact Tracing Team
Row 1: Jena Grgurich, Chelsea Skinner, Natalie Cohen, Chelcey Beavers
Row 2: Melanie Holcomb, Kelley Shell, Natalie Kurlander, Noah Riley
Row 3: Andrea James, Shannon Bono, David Sloan, Jaime Rzepecki
Not Pictured: Danny Brandt, Rosie Cheng, Erica Levin, Chris Moraga

Community Health and Well Being and Athletics & Physical Education
2021 Nominees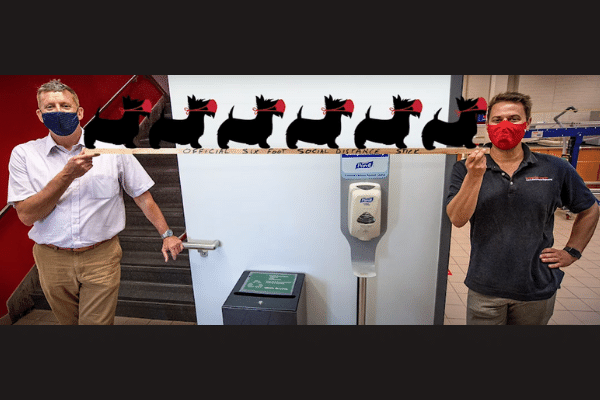 The CIT-CEE Team
Ronald Ripper and Brian Belowich
College of Engineering, Civil and Environmental Engineering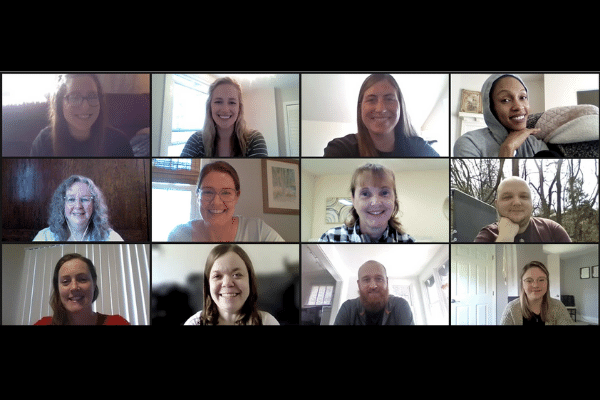 The Contact Tracing Team
Row 1: Jena Grgurich, Chelsea Skinner, Natalie Cohen, Chelcey Beavers
Row 2: Melanie Holcomb, Kelley Shell, Natalie Kurlander, Noah Riley
Row 3: Andrea James, Shannon Bono, David Sloan, Jaime Rzepecki
Not Pictured: Danny Brandt, Rosie Cheng, Erica Levin, Chris Moraga

Community Health and Well Being and Athletics & Physical Education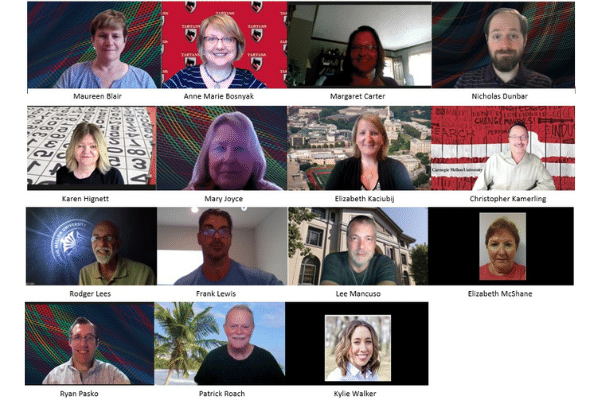 The Finance Division Oracle Fixed Assets Project Team
Row 1: Maureen Blair, Anne Marie Bosnyak, Margaret Carter, Nicholas Dunbar
Row 2: Karen Hignett, Mary Joyce, Elizabeth Kaciubij, Christopher Kamerling
Row 3: Rodger Lees, Frank Lewis, Lee Mancuso, Elizabeth McShane
Row 4: Ryan Pasko, Patrick Roach, Kylie Walker

The Finance Division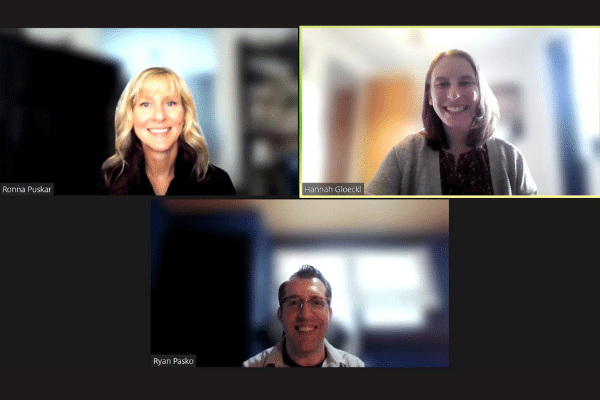 The Finance Division Payroll Distribution Adjustment Project Team
Row 1: Ronna Puskar, Hannah Gloeckl
Row 2: Ryan Pasko
Not Pictured: Kylie Walker
The Finance Division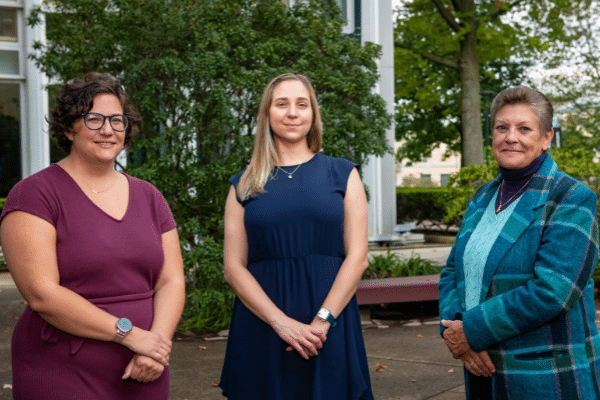 The Leonard Gelfand Center Team
Miriam Wertheimer, Kristin Lavery, Pamela Piskurich

The Office of the Provost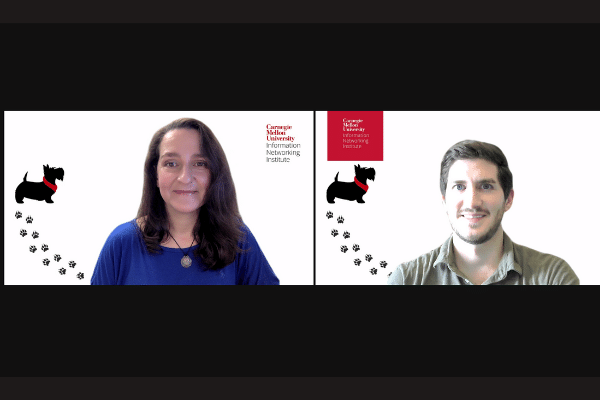 The Information Networking Institute Finance Team
Mira Angelova, KevinTopolski
Information Networking Institute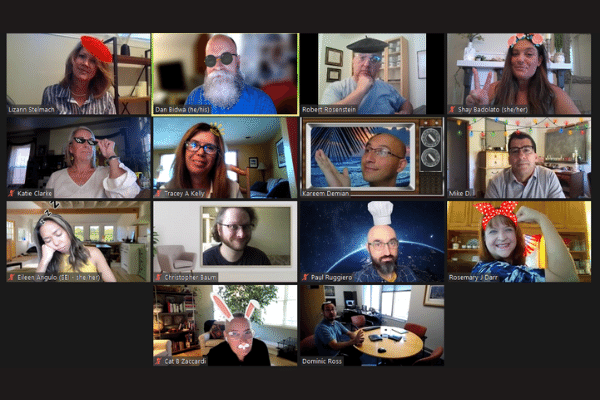 The SEI AJ Awards 2021 Planning Team
Row 1: Lizann Stelmach, Dan Bidwa, Robert Rosenstein, Shay Badolato
Row 2: Katie Clarke, Tracey Kelly, Kareem Demian, Mike Duda
Row 3: Eileen Angulo, Christopher Baum, Paul Ruggiero, Rosemary Darr
Row 4: Cat Zaccardi, Dominic Ross
Not Pictured: Jeffrey Balmert, Richard Lynch, Dan Plakosh, Tony Young
Software Engineering Institute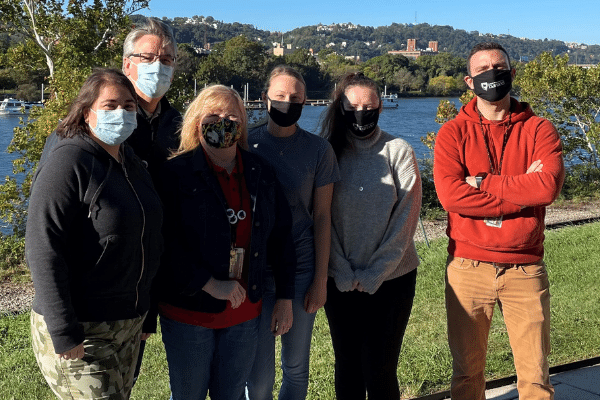 The Tartan Testing Lab & Operations Leadership Team (1 of 2)
Silvia Giampapa, John Kleinhample, Kathleen Sullivan, Kayla Morrill, Morgan Nellis, Florent Letronne
Student Affairs, Facilities, Infrastructure & Risk Management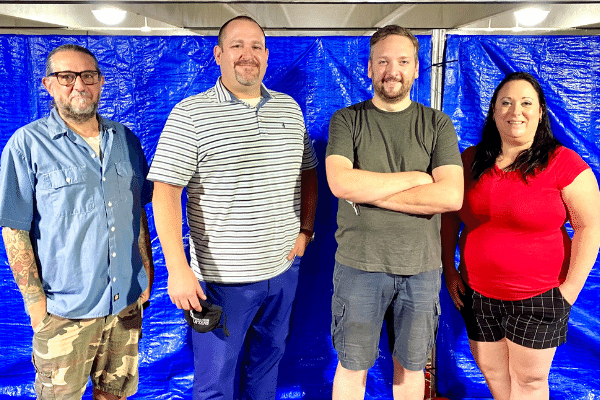 The Tartan Testing Lab & Operations Leadership Team (2 of 2)
Vini Costanzo, George Innocenzo, Robert Rounsley, Nicole Shughart
Not Pictured: Christine Andrews
Student Affairs, Facilities, Infrastructure & Risk Management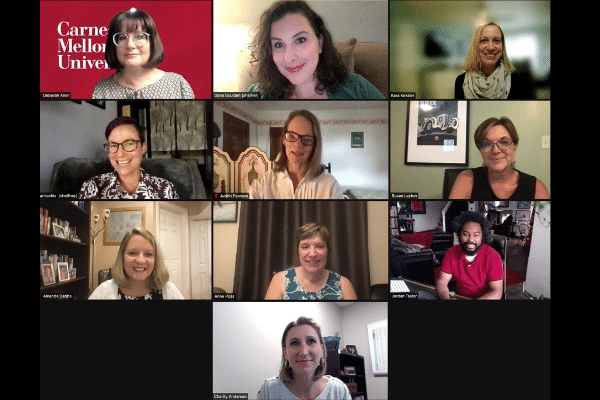 The "Tartans All In, Everywhere" Team
Row 1: Deborah Allen, Dana Boulden, Kara Kessler
Row 2: Carrie Chisholm, Judith Pearson, Susan Layton
Row 3: Amanda Dabbs, Anne Ross, Jordan Taylor
Row 4: Charity Anderson
Not Pictured: Kathy Kendra, Kevin Lorenzi, Felicia Lucot, Bill Lyon, Robert Schreiner, Lawerence Synett

University Communications & Marketing, Facilities, Infrastructure & Risk Management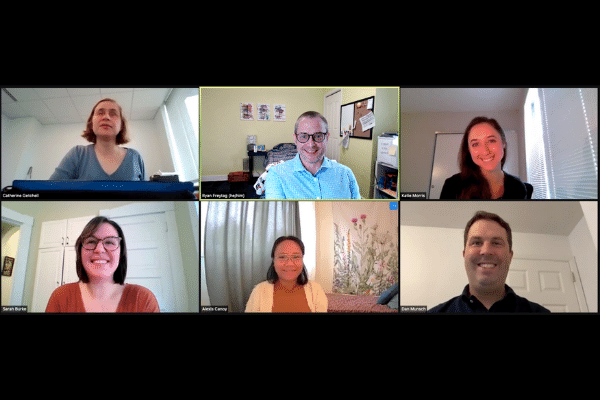 The University Events Accessibility Protocols Team
Row 1: Catherine Getchell, Ryan Freytag, Katie Morris
Row 2: Sarah Burke, Alexis Canoy, Dan Munsch
University Advancement, The Office of the Provost, The Office of the General Counsel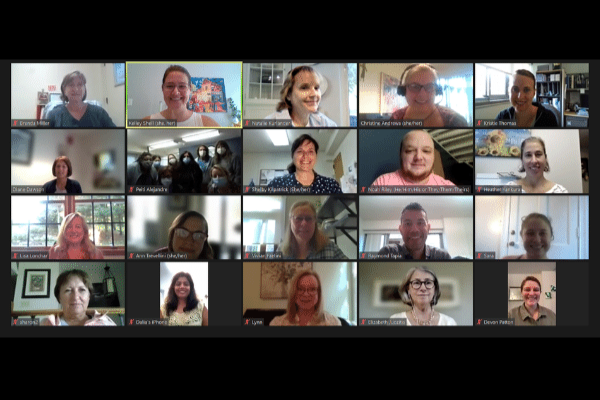 The University Health Services Team
Row 1: Brenda Miller, Kelley Shell, Natalie Kurlander, Christine Andrews, Kristie Thomas
Row 2: Diane Dawson, Jen Wilson, Rumi Bumbera, Lisa Wegner, Peiti Alejandre, Susan Clark, Melissa Shipman, Dawnn Vith, Julie May, Shelby Kilpatrick, Noah Riley, Heather Yankura
Row 3: Lisa Lonchar, Anne Trevellini, Vivian Faetini, Raymond Tapia
Row 4: Sharon McCartney, Dalia Vichatt, Lynn Boucek, Elizabeth Juozitis
Not Pictured: Barb Benedict, Tatum Donahue, Mary Vickery

Student Affairs, University Health Services