CMU Robotic Arm Inspires Disney's Baymax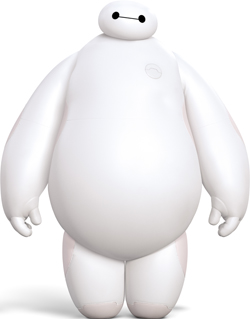 An inflatable robotic arm made of a balloon-like material at CMU is the inspiration behind Baymax (right), a pivotal character in Disney's latest animated feature film "Big Hero 6," set to premiere on Nov. 7.

In the comedy-adventure, Baymax, a gentle robot designed to care for humans, is transformed into a warrior and joins a band of high-tech heroes.

"The movie is a tremendous win for soft robotics," said CMU Robotics Professor Chris Atkeson. He said mobile robots made from soft materials — fabrics, balloons, light plastics — offer advantages over metal robots, including lower weight, lower cost and greater safety when operating near people. "I think this movie will be inspirational for a lot of people," he added.
______________________________________________________________
Close Elections Create Wide Divisions

Researchers at Carnegie Mellon's Tepper School of Business have studied voter behavior and found that when contests are perceived to be highly competitive, voters on both sides of the political spectrum tend to favor candidates who are more strongly conservative or liberal, contradicting conventional wisdom.
"We found that when people believe that there is greater competition between their group and another group, they want to make clear what the differences are between the two groups. To make the distinction between the two groups clear, they choose leaders who are extreme in their views," said Rosalind Chow, associate professor of organizational behavior and theory.
________________________________________________________________
Factories Won't Solve High Cost of Electric Cars

Carnegie Mellon researchers have found that the cost savings associated with manufacturing a high volume of batteries for electric vehicles may be nearly exhausted. Mass production lowers cost, say the researchers — but only up to a point.
"We found that battery economies of scale are exhausted quickly, at around 200-300 MWh (megawatt hours) of annual production. That's comparable to the amount of batteries produced for the Nissan Leaf or the Chevy Volt last year," said Engineering Professor Jeremy Michalek. "Past this point, higher volume alone won't do much to cut cost."