February 26, 2018
Tips: February 26, 2018
By SPARCS Help Desk SPARCS-Help(through)andrew.cmu.edu
SPARCS Tips
The following are this week's tips on using SPARCS:
PREPARE LETTER Activity: COVER LETTER - There are times a proposal is sent to a sponsor and requires a Cover Letter be attached (usually DOD but can be others). The SPARCS system generates this Cover Letter Template for you when you use the Prepare Letter activity. In this template, SPARCS pulls the Opportunity ID and Opportunity Title from the Proposal information which has been entered by the Research Administrators. There are times when some or none of the Opportunity details are available. When the Cover Letter template has been generated, if you click on the link the document will display in Word. You will be able to edit the first sentence which references the opportunity.
EARLY AWARD REQUEST: If you need to request an Early Award, SPARCS can help you generate your Early Award Request Form!

STEP 1: Select the Generate Template activity. A pop-up box will appear. Select "Early Award Request". New fields will become visible; answer each of the 5 questions and then select OK. The pop-up box will disappear. 
STEP 2: Go to your History Tab. You will see under the activity list "Template Generated" and there will be an attachment under it named "Early Award Request". Select this document and send it to your PI requesting that s/he sign and return it to you. The PI may sign electronically.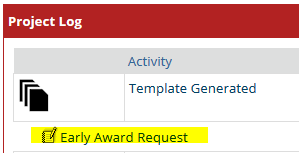 STEP 3: Once the signed document has been returned to you, select the Request OSP Action activity. A pop-up box will appear. Select "Early Award (file upload required)" and add the signed document as an attachment. If you wish, you can include a comment then select OK. A notification will be sent to the OSP Specialist and the OSP Awards team will proceed with your request.
Recent improvements to SPARCS:
PROPOSAL WORKSPACE: You can now see whether a project will be conducted ON-SITE, OFF-SITE, or BOTH by looking at your funding proposal workspace under Proposal Information.
COPY PROPOSAL Activity: This feature has been updated to remove all previous attachments and if the original proposal was a submitted proposal, the details of the submission have also now been removed.
NOTIFICATIONS: When changes have been requested by either the Department/School level approvers or an OSP Specialist for a prolonged period of time, the system will now send several reminders.
SPARCS Updates
Maintenance
SPARCS unavailable due to maintenance on Wednesday, February 28, 2018 from 6:00 AM to 7:00 AM.