January 29, 2018
Tips: January 29, 2018
By SPARCS Help Desk SPARCS-Help(through)andrew.cmu.edu
SPARCS Tips
Following are some tips on using SPARCS to expedite the review and submissions of your proposals -
Terms used in the Click software that SPARCS is built on isn't always the CMU terminology (these are things we just can't control). If you are looking to submit a Supplement on an existing awarded SPARCS proposal, be sure to visit the original SPARCS funding proposal before you start creating a New proposal. First, make sure the original funding proposal status is Awarded. Second, look for the activity Create Revision. In the SPARCS world, "Revision" and "Supplement" are one in the same. Note: you can also find the definitions for these under Application Type on the General Proposal Information smartform.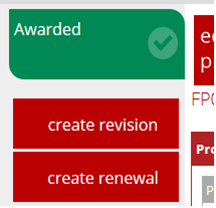 APPROVERS: As a follow-on to a previous tip... If a funding proposal has already been submitted by the time you receive the proposal for review, the information will need to match the submission regardless of accuracy.

If you discover information that was submitted (to the sponsor) incorrectly, rather than updating SPARCS, please add a comment indicating the correct information. This can be addressed with the sponsor (if needed) and updated or it can be addressed during the award phase.
You can check to see if the application has been submitted by checking the History Tab. The OSP Specialists will be using the Add/Update Metadata and Add Comment activities to indicate if the proposal has been submitted

If you have a Subaward as part of your proposal, please remember to request a copy of that institution's rate agreement. While this won't hold up a submission, it will delay the setup of your subaward should the project be awarded. 
SPARCS Updates
Maintenance
SPARCS unavailable due to maintenance on Wednesday, January 31, 2018 from 6:00 AM to 7:00 AM.