January 08, 2018
Tips: January 8, 2018
By SPARCS Help Desk SPARCS-Help(through)andrew.cmu.edu
SPARCS Tips
Following are some tips on using SPARCS to expedite the review and submissions of your proposals -
Follow-on submissions (including transfers) should be identified correctly on the General Proposal Information Smartform (see picture below). If anything other than "New" has been selected for application type, additional information should be provided to the department approvers and OSP regarding the related records. This is especially important for proposals that have a SPEX record or a sponsor award number. You can add this information by adding a comment when using the Submit for Department Review activity.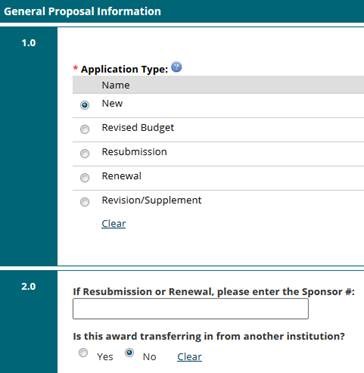 Do you need to create a revised budget for a proposal already in SPARCS? This will need to be completed by your OSP Specialist. Use the Notify SPO of Grant Status activity on your current proposal that is in "Pending Sponsor Review" state. Select the "Other (Sponsored Requested Revised Budget or Other)" option. Be sure to provide as much detail as possible and attach any correspondence from the sponsor indicating that the request has been made (if you have it).
SPARCS Updates
Maintenance
SPARCS unavailable due to maintenance on Wednesday, January 10, 2018 from 6:00 AM to 7:00 AM.