Improving Education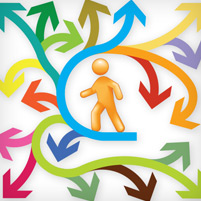 Many debates have ensued over the best teaching strategies to use in the classroom. Is it better to give students immediate feedback or delay it? Should classroom materials be concrete or abstract?

In reality, it's not as simple as choosing one technique over another. Improving education is complicated.

Carnegie Mellon University and Temple University researchers scoured the educational research landscape and found that there are actually more than 205 trillion instructional options available.

In the Nov. 22 issue of "Science," the researchers break down exactly how complicated improving education really is.

"Part of the instructional complexity challenge is that education is not 'one size fits all,' and optimal forms of instruction depend on details, such as how much a learner already knows and whether a fact, concept, or thinking skill is being targeted." said lead author Ken Koedinger, professor of human-computer interaction at CMU, director of the Pittsburgh Science of Learning Center (PSLC) and co-coordinator of the Simon Initiative.

The findings were published only a week after CMU launched the Simon Initiative to accelerate the use of learning science and technology to improve student learning. Named to honor the work of the late Nobel Laureate and CMU Professor Herbert Simon, the initiative harnesses CMU's decades of learning data and research to improve educational outcomes for students everywhere.

For the paper, Koedinger, Temple's Julie Booth (DC'05) and CMU's David Klahr investigated existing education research to show that the space is too vast, with too many possibilities for simple studies to determine what techniques will work for which students at different learning points.

To tame instructional complexity and maximize the potential of improving the research behind it, the researchers suggest focusing on how different forms of instruction meet different functional needs.

For example, the optimal way to memorize facts may be a poor way to learn to induce general skills.

The researchers also suggest taking advantage of educational technology by conducting massive online studies; building a national data infrastructures that collect moment-by-moment data and linking them to longer-term results, such as state exams and performances in a next class; and more permanent school and research partnerships.

"These recommendations are just one of the many steps needed to nail down what's necessary to really improve education and to expand our knowledge of how students learn and how to best teach them," said Klahr, the Walter Van Dyke Bingham Professor of Psychology at CMU who directs PIER, the university-wide graduate training program in education research.

"They're also in line with how Carnegie Mellon — an educational research powerhouse — approaches education by studying the intersection of instruction, cognitive psychology, computer science, statistics, philosophy and policy," Klahr added.
Related Links: School of Computer Science | Human-Computer Interaction Institute
---