Business Plan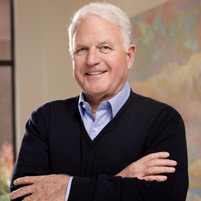 James Swartz
Carnegie Mellon University has received another boost to enhancing the scope and impact in innovation and entrepreneurship.

A $10 million gift from James R. and Susan S. Swartz will help CMU shape the future through business education, cutting-edge research, learning technologies and interdisciplinary collaboration.

James Swartz (T'66) is a distinguished entrepreneur, venture capitalist and founding partner of Palo Alto, Calif.-based Accel Partners. His commitment follows a $67 million gift from the charitable foundation of renowned investor David A. Tepper (T'82) to create a major new academic hub along the Forbes Innovation Corridor called the David A. Tepper Quadrangle, which will enable CMU to enhance student programs, expand opportunities for innovative research and interdisciplinary degrees, and offer a flexible technological framework that anticipates the future of learning.

These gifts will be used for the construction of a 295,000 square-foot facility in the Tepper Quad that will house a number of strategically interconnected entities, including the university's Tepper School of Business, the Center for Innovation and Entrepreneurship, The Simon Initiative and quality of life enhancements for the entire CMU community. This new facility will serve as the cornerstone for integrating elements of research and education across the university's Pittsburgh campus. 

"At Carnegie Mellon I learned to master management science, constructing business models to solve challenges that were completely new to the marketplace and unleashing the power of data for smarter business decisions," Swartz said. "Those lessons, and the skills that I developed as a result of them, have greatly benefited me throughout my entrepreneurial career."

As a director of more than 50 successful companies in five decades as a venture capitalist, Swartz has been involved as a lead investor of numerous pioneering technology companies. He received the 2013 Tepper School Alumni Achievement Award in recognition of his professional accomplishments and his commitment to education.

"Jim's track record of private sector investment is awe-inspiring. He is a Silicon Valley icon, and is counted among the most successful venture capitalists worldwide," said CMU President Subra Suresh. "Jim has also been a steadfast benefactor of the university, sharing not only his wealth, but his experience and his vision. We are grateful that he and his wife, Susan, have chosen Carnegie Mellon for this significant philanthropic investment in future generations of young entrepreneurs.

"This contribution will enable us to bring to life a vision for coordinated programs aimed at entrepreneurship and technology-enhanced learning for the business school and for the entire university in the interdisciplinary spirit that pervades our campus."
Related Links: Read press release | James R. Swartz Leadership Scholarship | Swartz Entrepreneurial Fellowship Program
---