Data Science on the World Stage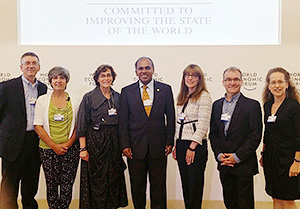 Pictured are: CMU College of Engineering Dean James H. Garrett Jr., Professor Manuela Veloso, Professor Marlene Behrmann, CMU President Subra Suresh, Eberly Center Director Marsha Lovett, Executive Editor of Nature Nick Campbell and Professor Justine Cassell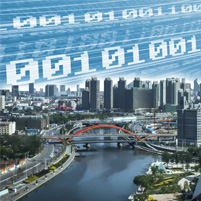 Tianjin, China
In a world deluged with data and increasingly sophisticated methods for collecting and analyzing it, scientists are focused on how they can use all of this information to improve our lives.

Four Carnegie Mellon University faculty members provided their perspectives on this topic during a session titled "Data Science in Action" at the World Economic Forum's Annual Meeting of the New Champions 2014, where 1,600 participants from 90 countries gathered in Tianjin, China.

The Forum's members include the top 1,000 companies from around the world that drive the global economy and collaborate on shaping global, regional and industry agendas.
 
In 2010, Carnegie Mellon was invited to join the Forum's Global University Leaders Forum (GULF), a group of 25 elite global universities, only 11 of which are in the U.S. Since then, 15 faculty members from six schools and colleges — plus the Entertainment Technology Center — have presented at Forum meetings that attract leaders from business, government, academia and arts and cultural organizations.

Introducing the data science discussion was CMU President Subra Suresh, who serves as the university's GULF representative and was the only university president serving as one of nine "programme mentors" for the meeting. CMU's data science presenters are:
Continuing the momentum of The Simon Initiative, which harnesses the university's leadership in learning science to improve learning outcomes for both CMU students and learners around the world, Dr. Suresh was featured in a session titled "Optimizing Education through Technology."

Justine Cassell, co-coordinator of The Simon Initiative and associate vice provost of technology strategy and impact, further highlighted CMU's leadership through her involvement in three talks in Tianjin discussing technology, computing and gender. Cassell also serves as head of the Forum's Global Agenda Council on Robotics and Smart Devices.


40 Under 40
Each year, the Forum selects 40 scientists under the age of 40 to participate as Young Scientists alongside the business and political leaders.

These scientists are selected from all regions of the world and from a range of disciplines to provide perspectives on the most up-to-date trends in scientific research.

Three of the scientists chosen this year are Carnegie Mellon faculty:
Harrison and Hammer both served as panelists in Tianjin, with Harrison discussing "Tomorrow's Consumer Tech" and "Consumer Industry Transformations." Hammer presented during a session called "Future Learning: Better, Faster, Smarter."
Related Links: Carnegie Mellon and the World Economic Forum | Forum Blog: 10 Things to know about our meeting in China | The Robot Revolution Has Already Begun | Will We Ever Understand the Human Brain?
---