Origami Stroller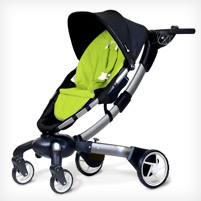 Origami Stroller, opened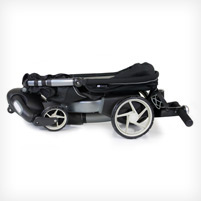 Origami Stroller, folded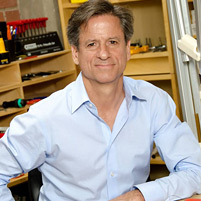 Henry Thorne
When you've got kids, you've got a lot to worry about. Henry Thorne (E'82,'84,TPR'00) at 4moms is working to lighten that load.

At Carnegie Mellon University, he developed skills he is still applying today to make life easier for parents.

"At 4moms, we take products that typically haven't seen electronics before and dramatically improve them," Thorne explained.

His latest invention — the Origami stroller — folds itself at the touch of a button. 
The stroller was featured on The Today Show, where Matt Lauer called it "amazing." It's also been featured on CNN and in The Los Angeles Times, The Wall Street Journal, TechCrunch and Popular Science.

And as if being practical, safe, elegant and easy to use weren't enough, generators in its rear wheels charge the Origami while you walk. You can even use them to charge your cell phone.

Thorne says his CMU education gives him the edge in product design.

"One of the reasons our products are elegant and slim and efficient is because I can see the forces that act through a system," he explained. "I can look at a structure and I can see where its weak spots will be in the design before making it."

He added, "It's a very useful skill to have. It enables you to efficiently design something that won't break. That's really hard to do, and I learned how to do it at Carnegie Mellon."

Thorne says he caught the desire to be innovative from his CMU professors, whose excitement for thinking out-of-the-box was contagious.

"I still feel that excitement today," he said.

CMU encourages innovation and entrepreneurship and has created the Greenlighting Startups initiative to accelerate the university's already impressive record of turning campus innovations into sustainable new businesses.

Since 2004, CMU has doubled the number of start-up companies created by its faculty and students and now stands as one of the fastest growing entrepreneurial institutions in the United States.

Classmates might remember Thorne playing Ultimate Frisbee on The Cut. Thorne went on to become a three-time world champion in the sport. Today, his kids are two of the top throwers in the country.

In 2001, Thorne founded Aethon, Inc., a Pittsburgh-based company that today provides robots for more than 100 U.S. hospitals.

He is most recently the recipient of the Carnegie Science Entrepreneur Award. Additional CMU alumni and faculty members were also awardees in other Carnegie Science Award categories — honoring innovation in science and technology. (see full list).
Related Links: 4moms.com | Dept of Mechanical Engineering | Disruptive By Design | Tepper School of Business | College of Engineering
---