Plaid to the Bone
Loyal Scot playlist on YouTube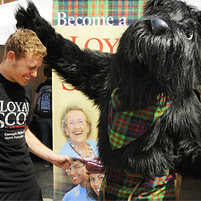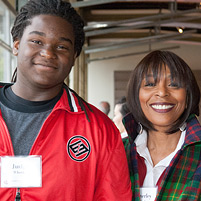 Beverley Wheeler & son
It's an exclusive program — for those who are plaid to the bone.

Loyal Scots — Carnegie Mellon University's best student and alumni ambassadors. Dedicated, passionate and forever committed to CMU.  

Loyal Scot members are recognized for staying engaged with the university community — year after year.

"I choose to be a Loyal Scot because it offers me an opportunity to stay connected to one of the most impressive change agents on the planet — Carnegie Mellon University," said alumna Beverley Wheeler (DC'76, HNZ'78), who also serves on the university's Board of Trustees.

And besides, it's easy.

"Becoming a Loyal Scot is the easiest process I know," said Wheeler. "I make sure the university can contact me. I advocate for CMU by telling people about programs, identifying potential students, talking about my CMU experience, attending university events," she said. "And I make financial contributions to further university activities."

In her opinion, the thing that makes CMU so special is its breadth and depth of knowledge across multiple diverse disciplines coupled with the ability to collaborate, cooperate and produce.   

Recent engineering graduate and Loyal Scot Bryan Spencer (E'12) is also grateful for his education — and fond memories — as he moves forward to a full-time position with Schlumberger in Perth, Australia.

"If I had gone to a bigger institution, even a different institution on par with CMU, I can guarantee you I would not be in the same situation I am today," Spencer said. "I became a Loyal Scot because I want to give back to this university. It has meant so much to me over the past four years of my life."

"The Loyal Scot program shows exactly what it is to be a good and supporting member of the university community."

He continued, "And almost everyone at Carnegie Mellon has some sort of interdisciplinary interest."

As a chemical engineering major, Spencer was involved in one of the few all-male a cappella groups on campus.

"In our group we had computer science students, engineers, writers, and yes, a few music majors. Working with all these people from all these diverse backgrounds really helped me learn how other people think. This gave me an entire new perspective on how to approach a problem, an approach that helped in solving that problem."

Likewise, Wheeler is most proud of the fact that CMU "educates to action."

She explained, "We are active participants in the world in which we live. We are problem-solvers using our quest for knowledge for the good of the community."

Over the past 30 years, Wheeler has worked in public policy, and most recently education policy.

"My Carnegie Mellon University education prepared me for the world," said Wheeler.
"It was at CMU that I honed my problem solving skills, practiced collaboration, and perfected my technical skills all while living up to my parents expectation that I use my education to make the world a better place for all."

If you're CMU alumni and eligible to become a Loyal Scot — get involved in the Loyal Scot Challenge for chapter bragging rights and more.
Related Links: Loyal Scot | Dietrich College | College of Engineering | Heinz College
---