Growing Pittsburgh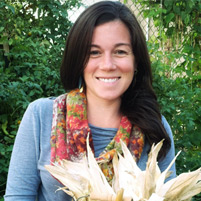 Julie Pezzino
Julie Butcher Pezzino (HNZ'09) grew up in a farming community. Now she's growing responsible farmers in the city of Pittsburgh.

As executive director of Grow Pittsburgh, the Carnegie Mellon University alumna is committed to demonstrating, teaching and promoting responsible urban food production in the region.  

"I was surrounded by farms as a kid in upstate New York. We had a farmers market a quarter mile down the road and I assumed everyone lived that way," Pezzino explained.

She quickly learned that many don't. And Pezzino wanted to share her passion for sustainable living with others.

When she and her husband Andrew Butcher (HNZ'07) moved to Pittsburgh to pursue his degree at CMU's Heinz College, Pezzino saw an opportunity to make a difference. And she ended up enrolling at CMU, too.

"I was thinking about running an organization and I needed the kinds of courses offered through Heinz College," Pezzino said. "In my financial management classes, I learned about profit and loss and how to read a balance sheet to track budgets. Other classes helped me learn how to think strategically, manage operations and human resources, and effectively pitch ideas to the public."

Her introduction to Grow Pittsburgh was through an internship.

"I worked with the former executive director at Grow Pittsburgh for the majority of my graduate education. By the time we got to my final semester, I was working at least 20 hours a week."

"My professors were very supportive," she said. "Being able to arrange my coursework so I could be at Grow Pittsburgh on a regular basis coupled with the education I was receiving — completely prepared me to step into the executive director position when it became available."

Since stepping into that role, Pezzino's City Growers community gardening program has launched a dozen community gardens across the region and is one of several sustainability projects that complement her husband's work at GTECH Strategies, a company he started to reclaim vacant land and apply innovation to community development.

Environmental innovation is an integral part of CMU's culture, curriculum and practice. Through its Scott Institute for Energy Innovation, the Steinbrenner Institute for Environmental Education and Research and the university's Green Practices Committee, CMU demonstrates its commitment to working toward a sustainable future.

Pezzino encounters a lot of CMU connections in her work throughout the community.

"CMU has a great reputation in the Pittsburgh community," she said. "I've met a lot of people internally and externally that continue to help Grow Pittsburgh today, and that's huge."

Through Pezzino's work and positive contributions to the region, she was recognized as one of Pittsburgh's 2012 "40 under 40." Pittsburgh Magazine and PUMP awards people under the age of 40 who have demonstrated exceptional passion for, commitment to and an overall impact on the region.

She was one of eight CMU alumni who were honored at a recent awards ceremony. The others were:
Nina Barbuto (A'06) Director, Assemble; Co-founder and Organizer, I Made It to Market; Weekend Programs Manager of the Girls, Math & Science Partnership, Carnegie Science Center
Sonika Bhatnagar (MCS'95), Assistant Professor of Pediatrics, Children's Hospital of Pittsburgh, UPMC
Cory Cope (A'03), Owner, Flyspace Productions
Kathryn Heidemann (HNZ'04), Director, Master of Arts Management Program, CMU
James Isler (TPR'06), Director, Derivative Products Group, PNC Capital Markets LLC
Matt Merriman-Preston (E'05), Political Consultant/Principal, Ampersand Consulting
Allison Sanders (HNZ'04) Membership Manager, Frick Art and Historical Center
Meanwhile, Pezzino suggests taking advantage of the season's colorful harvest.
Related Links: Grow Pittsburgh | Heinz College | Scott Institute for Energy Innovation
---