Seeding Entrepreneurism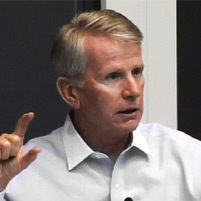 Ray Lane
Everywhere Ray J. Lane goes, budding entrepreneurs pitch him the next big thing. The startup that will explode into the next Twitter or Groupon.

Most of the ideas are good, Lane said. They're just not ready for funding by a venture capitalist like him.

"In 10 years of venture capital, I have heard maybe one bad idea. Ideas are cheap," said Lane, managing partner of the Silicon Valley venture capital firm Kleiner Perkins Caufield & Byers and chairman of the board of Carnegie Mellon University.

In April, Lane spoke to students at the Tepper School of Business as part of the W.L. Mellon Speaker Series and the James R. Swartz Entrepreneurial Leadership Series.

During his lecture, he advised aspiring entrepreneurs against seeking venture capital too early.

"Venture capital is an expensive way to get money," Lane said. "You have to give up a lot of your idea, your ownership in the company."

Lane advised them to establish the company by securing seed money from relatives or an angel investor before going after venture capital.

Also, innovators pursuing venture capital should understand that the relationship isn't simply about cash.

"You want to go there for influence. You want to go with somebody who can help you build the business," Lane said.

A legend in Silicon Valley, Lane was recently named non-executive chairman of Hewlett-Packard. He was formerly President and Chief Operating Officer of Oracle Corporation, the second-largest software company in the world, before becoming a venture capitalist.

Usually venture capitalists aren't looking to fund an idea in its infancy. One exception was Aquion Energy Inc., a Pittsburgh business that specializes in non-toxic, low-cost energy storage, which received seed money from KPCB.

Aquion was hatched at Carnegie Mellon by Jay Whitacre, assistant professor of materials science, engineering and public policy.
Lane, who leads the GreenTech Team at KPCB, pounced on the idea. In fact, he liked the Lawrenceville startup so much that he became chairman of its board.

"I think storage is the Holy Grail. If you can add cheap storage to renewables like solar and wind — or put storage into the grid so you can manage off peak — it gives you so much flexibility."

Lane's colleagues on the GreenTech team include former Vice President Al Gore, who is also a partner at KPCB.

Green technology is new and exciting area for Lane, who built the enterprise software business at Oracle. He continued to specialize in software companies after his move to KPCB, but eventually he tired of them.

"I want to feel like I am 30 years old, and I want to be on the edge. Every time I'm sitting with a team in Clean Tech, I feel like I know half what I should know. And I love that feeling."

Since 2004, CMU has doubled the number of start-up companies created by its faculty and students and now stands as one of the fastest growing entrepreneurial institutions in the United States.

CMU recently introduced "Greenlighting Startups," a new initiative aimed at accelerating the university's already impressive record of turning campus innovations into sustainable new businesses.
Related Links: Watch Video | Greenlighting Startups | Tepper School of Business
---