The Drive to Excel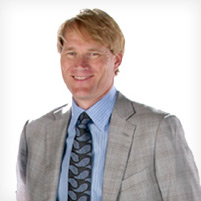 Rob Cochran
When Rob Cochran entered Carnegie Mellon University as a 17 year-old applied math/industrial management major, he wasn't planning to one day take over the family business.

Nine years later, he found himself CEO of #1 Cochran Automotive — the leading auto retailer in Western Pennsylvania. Drawing on skills he learned at CMU, he has grown the company into a $450 million enterprise employing nearly 600 people.

In support of the  Inspire Innovation campaign, he's made a generous gift to CMU's Students in Free Enterprise (SIFE) chapter to help put today's students on the path to success.

"Entrepreneurship, leadership, social responsibility — the goals of SIFE are close to my heart," explained Cochran (S'87), who operates 15 new-vehicle franchises from 13 showrooms throughout Monroeville, Robinson Township and Pittsburgh's South Hills.

A strong believer in corporate citizenship, Cochran is deeply committed to providing support to the communities his company serves.

"I have always felt that the strongest and most successful companies had the greatest obligation to give back," said Cochran. "Doing the right thing is at our core — from supporting communities and charities to ensuring ethical business practices in our daily operations."

Indeed, #1 Cochran holds the distinction of being the only auto dealer ever to win the Pittsburgh Business Ethics Award.

"I hope our gift to SIFE helps to foster a generation of business leaders driven to succeed but guided by responsibility," added Cochran.

SIFE is an international organization dedicated to fostering leadership and business skills in the service of a better world. The CMU chapter has over 200 members and 11 active projects.

Lindsay Kelly, a CMU junior, was initially drawn by the SIFE slogan: "A head for business, a heart for the world."

"Freshman year, I saw someone walk by with this quote on their back," recalled Kelly, now the chapter president.

"Not only were these students really willing to help others in need, but I was excited to gain valuable leadership experience."

Current projects include Global Threads, which hosts fair trade events selling goods from artisan communities; Project Pulse, which provides consulting advice for Activaided Orthotics, a recent alum's back-brace start-up; and e-Lumanate, which centers its efforts around the construction of an entrepreneurial community bazaar in Yele, Sierra Leone.

Kelly, who is majoring in French, policy and management, points out that while affiliated with the Tepper School of Business, the organization welcomes all student participants.

She found key CMU values reflected in SIFE.

"I came to Carnegie Mellon because of the interdisciplinary culture and pre-professional training," noted the Virginia native. "I was excited to see everyone come together from various backgrounds and collaborate, a primary reason I was interested in SIFE."

During his time at CMU, Cochran believes he learned to meet challenges with confidence and increased his leadership skills. He also came away with a particular lesson he tries to instill within his organization and hopes to inspire in future students.

"At my commencement, Dr. Richard Cyert said something I've shared many times — 'dare to disturb the universe,'" recalled Cochran. "It's not just about being smart and getting a good education. It's about going out there, applying what you've learned and being able to take risks. Years later, those words still stick with me."

Cochran is committed to giving back to CMU and along with his financial support of SIFE, looks forward to more hands-on participation.

"I'm excited about being involved on an ongoing basis. I've enjoyed speaking to students and I'm enthusiastic about helping out."
Related Links: SIFE | Inspire Innovation | Mathematical Sciences | MCS | Tepper School of Business | Dietrich College | Modern Languages
---