Breaking Ground for Innovation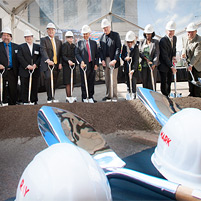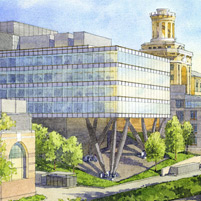 Future home of Wilton E. Scott Institute for Energy Innovation
Under sunny skies that were later punctuated with daytime pyrotechnics, the excitement was palpable as Carnegie Mellon University broke ground for the Sherman and Joyce Bowie Scott Hall — future home to the new Wilton E. Scott Institute for Energy Innovation.

Building on the energy research already happening at CMU, the new institute will serve to seamlessly combine CMU's expertise in technology, policy, integrated systems and behavioral and social science for maximum impact on the world's energy challenges — thereby establishing the university as the go-to place for improving energy efficiency and developing new, clean, affordable and sustainable energy sources.

The Scott Institute was made possible by a lead gift from CMU alumni Sherman Scott (E'66), president and founder of Delmar Systems, and his wife Joyce Bowie Scott (A'65), a trustee of the university.
 
"One of the things CMU is really good at is going out and identifying real-world problems and then fixing them," said Granger Morgan, the Thomas Lord Chair in Engineering, head of CMU's Department of Engineering and Public Policy and newly appointed director of the Scott Institute.

During a faculty symposium on Friday that kicked off a weekend of events celebrating the launch of the institute, Morgan noted, "Four things have been missing: discretionary resources, endowment resources, a one-stop point of entry and a new contiguous space. With the Wilton E. Scott Institute for Energy Innovation, CMU has taken a big step towards achieving these four things."
 
The Scott Institute will support teams of CMU engineers, scientists, economists, architects, policy specialists and others to tackle various issues, including developing cleaner, more efficient energy solutions while reducing carbon emissions; using smart grid technology to enable the use of large amounts of variable power generated from wind and solar power; and to create new advanced materials and processes to produce and store energy, increase efficiency and reduce waste.

"By bringing together experts from a range of disciplines, Carnegie Mellon is the perfect place to help meet the energy challenges of the future," said Scott, who founded Delmar Systems in 1968 and built it into one of the world's leaders in mooring systems for the offshore oil and gas industry.

"Energy is a precious resource, and Carnegie Mellon's systems approach can create solutions that ensure we produce and use energy more efficiently."

Noting the university's unique systems approach to energy, Charles McConnell (E'77), a CMU alumnus with 30 years of leadership in the energy industry who now serves as assistant secretary for Fossil Energy in the U.S. Department of Energy, said, "If CMU taught me anything while I was here, it was the importance of the systems approach to problem-solving."

McConnell also pointed out, "We have an obligation to our world and to ourselves to do this the right way. I believe this institute will have a transformational impact for our children and grandchildren. That's why we're here."

Located in the resource-rich Western Pennsylvania region, the institute's new home — the Sherman and Joyce Bowie Scott Hall — will be built near Hamerschlag Hall on CMU's Pittsburgh campus.

Scott Hall will also house CMU's Biomedical Engineering Department and nanotechnology efforts.

In addition to the Scotts, CMU has received support for Scott Hall from CMU alumni John Bertucci (E'63, TPR'65) and his wife, Claire Ruge Bertucci (MM'65); CMU alumnus Jonathan Rothberg (E'85) and his wife, Bonnie Gould Rothberg; and the Eden Hall Foundation.

The Scotts' gift continues a history of support for CMU's energy initiatives.

In 2004, Carnegie Mellon Trustee W. Lowell Steinbrenner (E'55, '60) and his wife, Jan, made a gift to establish the Steinbrenner Institute, which develops and enhances the impact of environmental research and education through graduate student fellowships and grants to fund innovative sustainability projects.

CMU has also benefited significantly from its collaboration with the National Energy Technology Laboratory (NETL), a part of the U.S. Department of Energy's national laboratory system. As a member of the NETL-Regional University Alliance, CMU has partnered with NETL in research, substantially strengthening its energy programs.
Photo [l to r]: Left to right – Mark Kamlet, Edward Frank, Charles McConnell, Claire Bertucci, John Bertucci, Sherman Scott, Joyce Bowie Scott, Sylvia Fields, Raymond Lane, Jared Cohon
Related Links: Read full release | Wilton E. Scott Institute for Energy Innovation | Environment at CMU | Symposium Launches Energy Weekend | Carnegie Mellon Today: Energetic Foundation
---