Every Day is Earth Day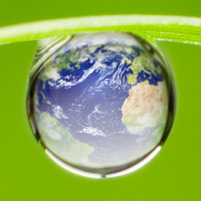 Every day is Earth Day for Ph.D. student Billy Epting, who saved more than 1,920 pounds of carbon dioxide and more than $800 in just one year by riding his bicycle to his engineering lab at Carnegie Mellon University.

Last year, a handful of engineering students — including Epting — and the Steinbrenner Institute for Environmental Education and Research launched "Heels on Wheels" encouraging more CMU faculty, students and staff to ride bicycles to work. Through Epting's work spearheading bike-friendly initiatives, CMU's Mechanical Engineering Department has been recognized as a bronze level Bicycle-Friendly Business (BFB). 

This is just one example of CMU's longstanding commitment to the environment and a sustainable energy future.

CMU has 10 Silver or Gold LEED certified (green) buildings, including the nation's first green dormitory on its Pittsburgh campus.
Most recently, CMU announced it will purchase green power to offset 100 percent of the university's electric consumption for 2012.

The university will purchase 116,000 megawatt hours (MWh) of Green-e certified renewable energy credits from Renewable Choice Energy. The power supported by the credits is sourced from wind farms located in the Midwest region of the United States.

The amount of green power purchased by CMU will offset nearly 80,000 metric tons of carbon dioxide emissions — equivalent to avoiding the annual carbon dioxide emissions of almost 10,000 U.S. homes or more than 15,000 passenger vehicles.

CMU has long been a supporter of green power, having made its first purchase of wind power in 2001. That purchase, which represented five percent of the university's usage, was at the time the largest-ever purchase of wind-generated electricity in America.

"We practice what we preach. Carnegie Mellon is committed to sustainability in education, research and our own practices," said Jared L. Cohon, president of Carnegie Mellon.

And we are providing others — from individuals to entire industries — with the knowledge and the resources to become more eco-friendly and to make a positive impact in today's world.

CMU alumnus Matt Rogers is grateful for the practical education he received at CMU and the professors who nurtured his passion for research. Armed with that education and passion, he and his team at Nest Labs, a CMU startup, reinvented the thermostat. Learn more about their Nest Learning Thermostat, which saves energy as it learns your living habits and adjusts itself accordingly.

One of the most cost-effective strategies for controlling demand for electricity in the U.S. may actually be modifications to popular video game consoles, like Nintendo's Wii or Microsoft's Xbox 360.

Modification recommendations are being made based on CMU researchers reporting that there has been a 50 percent increase between 2007 and 2010 in the amount of electricity used by today's video game consoles.

"We are seeing this big increase because the number of video game consoles is increasing, the amount of time spent on the consoles is increasing so the amount of energy used is also skyrocketing," said Eric Hittinger, a Ph.D. candidate in CMU's Department of Engineering and Public Policy.

Consoles that are never turned off after game play use more than 10 times as much energy. So, adding an "auto-power down" feature (like on modern PCs) could save consumers overall more than $1 billion annually in electricity bills.

The researchers also admonish the game console industry to apply the auto-power down feature to the 100 million existing consoles and use existing video game reward structures to encourage energy-saving behavior in gamers.

Interdisciplinary energy and environmental research and education comprise a key strategic initiative for CMU.

And celebrating Earth day — every day — is our commitment towards a sustainable future.
Related Links: Environment at CMU | Energy at CMU | Greenlighting Startups | MSNBC: Game Consoles Waste Electricity
---