Maker Shack Agency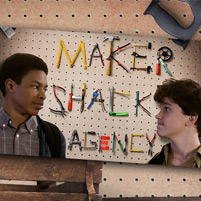 Gregory E. Freeman & Kalama Epstein in "Maker Shack Agency"
Fans of the Netflix series "House of Cards" and "Orange is the New Black" are well aware of the changing television broadcast landscape. The world of streaming TV is about to broaden with a focus on children's programming, thanks to Amazon Prime Instant Video.

Carnegie Mellon University Alumnus Geoff Barbanell (DC'01) is behind one of Amazon's new pilots, "Maker Shack Agency."

The show, aimed at children ages 6–11, is designed to promote science and discovery to kids.

Barbanell, a story editor for the popular Disney show "Kickin' It," co-wrote and co-created "Maker Shack Agency," along with Arland DiGirolamo. The show follows a 13-year-old inventor and his two best friends as they use science and personal ingenuity to solve problems by creating a new invention every episode.

A business administration major, Barbanell credits his experience at Carnegie Mellon and "its cross-pollination" for propelling him into a successful career as a filmmaker and writer.

"I joined a filmmaking club at CMU and was able to work with engineers, chemists and actors," he said. "Then, I ended up getting a minor in film and media studies and took classes with Sharon Dilworth. CMU allowed me to work across platforms and with all different kinds of thinkers."

One of those thinkers was chemistry major Tara Washlack (S'01). She helped Barbanell produce one of his films. They have since married.

Barbanell's proud to be involved with "Maker Shack Agency," a project that reaches out to kids.

"It's enriching to create a show that both entertains and encourages young people to take an interest in science. My son Jones is only six months old, and like the kids in my show, I hope he grows up to be a maker, someone with a curious mind and a desire to intellectually explore the world around him." Barbanell said.

Survey of Forms, Screenwriting and Screenwriting Workshop were among the courses he took to complete a minor in film and media studies. He also took classes in conjunction with Pittsburgh Filmmakers and a "History of Film Noir" at CMU.

Dilworth, associate professor of English and director of the Department of English's Creative Writing Program, has enjoyed watching Barbanell's screenwriting appear on television.

"His Disney show 'Kickin' It' was a big hit in our house," Dilworth said.

"Geoff was one of those 'unforgettable' students. Ambitious, driven, curious — he was a standout. A clearly talented writer with enormous energy and wonderful charisma, he was always open to learning everything he could about the craft of screenwriting," she said. "It's no surprise that he's having success in the competitive world of Hollywood."

Barbanell's advice to future filmmakers is simple.

"Get as hands on as possible — just grab a camera and tell a story," he said.

"Maker Shack Agency" premiered in early February and will stream free on Amazon Prime Instant Video until March 6.
Related Links: Dietrich College | Mellon College of Science | Maker Shack Agency
---