Developing the Future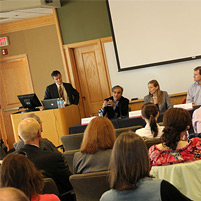 "Innovating in the Next Decade" symposium
Recently gathered on the Carnegie Mellon University campus, celebrants marked the first decade of the Master of Product Development (MPD) program in a fitting way — by looking to the future.

A symposium, "Innovating in the Next Decade," honored the tenth anniversary of the unique, one-year interdisciplinary program in integrated innovation — its practice and management, jointly offered by CMU's Department of Mechanical Engineering, Tepper School of Business and School of Design.

"We're the only program of its kind to have strong representation from the three main colleges that it takes to create a product: engineering, design and business," explained Jonathan Cagan, the George Tallman and Florence Barrett Ladd Professor of Mechanical Engineering and MPD co-director.

"The program was started 10 years ago, but follows a long Carnegie Mellon tradition of innovation and collaboration," he noted. "It actually goes back 25 years, to a class that was started here. Education and industry were siloed then, but CMU had a collaborative environment."

The event was hosted by Cagan along with co-directors Eric Anderson, associate professor of design, and Peter Boatwright, associate professor of marketing.

"There's been a significant shift in industry based on globalization, sustainability and technology, and a great deal of innovation over the past decade," Anderson said in his welcoming remarks.

"We're here to explore what happens in the next decade with four talented, top industry speakers," he said of the panelists, who were happy to share their insights.

Dee Kapur (TPR'76), former vice chair of Navistar, has lent strong support to the program since the time it was a class.

"I've built products my whole life — things that when you kick them, your toe hurts," he explained. "I think that's important. At the end of the day we still live in a physical world."
 
"I believe the only way out of our current quagmire is to grow — to devise new products, new technologies, new ways of manufacturing. Why am I passionate about MPD? It's the only program I have seen that focuses on training the next generation of leaders who make things."

Megan Stanton (A'04, MPD'05), one of the first MPD graduates and now the associate director of business design at BMW DesignWorks, observed that her own internship with Kapur marked the start of her successful career.

"If there's one thing that I've taken out of this program, it's respect for other disciplines," said the industrial design alumna. "That came from the process of working with other students in business and engineering."

Eric Close (TPR'97), former president and CEO of RedZone Robotics, had participated in the program's predecessor class and spoke inspiringly to the students.

"We're disrupting markets at unprecedented speeds," he said. "That allows everybody here power that you couldn't wield even 10, 20 years ago. With a little capital, a little time, a lot of ingenuity and great design principles, you can go and disrupt the world."

"How can you, over the next 10 years, leverage your skills?" he continued. "Embrace the product part of who you are. You see things that other people don't."

Donna Sturgess, founding partner of Buyology, and the MPD's first executive in residence, spoke of getting not one, not two, but three steps ahead.

"It's really the only way you're going to make money," she warned. "Most of the businesses that I've competed with have just as many smart people and just as much money and you're really looking to get some advantage. You have to disrupt."

Disruptive innovation — exactly what the MPD students are ready and eager to accomplish.
Related Links: Tepper School of Business | College of Engineering | Dept of Mechanical Engineering | College of Fine Arts | School of Design | Master of Product Development program
---