HeartLander's Journey Progresses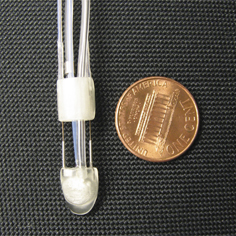 Valentine's Day is here and we're taking the whole heart business seriously.
After six years of robotics innovation by Carnegie Mellon researchers, HeartLander — the first mobile robot to successfully navigate the frontal surface of a beating heart — recently began charting new territory: the back of the heart.
To successfully complete this new and difficult feat, the miniature bot — which is barely larger than a penny and attaches itself to the heart by suction — had to crawl upside down with the weight of the heart pressing the robot against the spine.
"The posterior surface of the heart can be difficult for surgeons to access even when they cut the chest open," said Cameron Riviere, head of the project and associate professor of robotics at the university. "It was gratifying to be able to position tools with accuracy of better than 2 mm through a single keyhole incision, while the heart is still beating."
The concept of HeartLander began with Riviere's desire to reduce the risks associated with heart surgery, which typically requires the patient to undergo multiple incisions into the chest cavity and a temporary deflation of the left lung while the heart is being accessed.
Riviere has since been working in tandem with Marco Zenati, professor of surgery at the University of Pittsburgh School of Medicine and adjunct professor at Carnegie Mellon's Robotics Institute, to perfect the technology.
"My students and I have been motivated by the technical challenges; Marco and his group have been motivated by the potential for new types of cardiac therapy, possibly including outpatient procedures. We hope to reach a first-in-human trial within a few years," said Riviere.
A Carnegie Mellon spinoff company called HeartLander Surgical, Inc., is commercializing the robot.
The project has been funded by National Institutes of Health (NIH), the National Science Foundation (NSF) and Computer Integrated Surgical Systems and Technology (CISST), an NSF Engineering Research Center located at Johns Hopkins University, and the Pittsburgh Foundation.
The Pittsburgh Foundation includes The Simeon M. Jones, Jr. and Katharine Reed Jones Fund and the John D. Schaub's Sons Memorial Fund of The Pittsburgh Foundation.
Related Links: About HeartLander  |  Read Carnegie Mellon Today Article