Congrats to the New Grads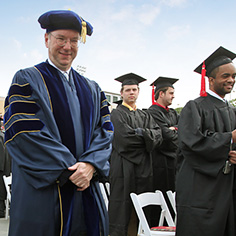 Eric Schmidt, chairman of the board and chief executive officer for Google Inc., gave the keynote address at Carnegie Mellon's 112th commencement ceremony May 17, 2009. Schmidt underscored both the importance of technological innovation and understanding the value of the family, friends and people around you.
"You have the opportunity to be the greatest generation," Schmidt told the graduates, saying they had all the tools and technologies needed.
He also remarked that Carnegie Mellon computer scientists probably invented everything they touch. While in jest, he made clear his understanding of the university when he noted the culture here is about getting things done for the world.
He left graduates with a charge to continue problem-solving for a better world.
"In a world where everything is remembered and kept forever — the world you are graduating into — you should live for the future and the things that you really care about. Don't live in the past. Live in the future," he said.
He continued, "And what are those things? To figure this out, you need to actually turn off your computer. I know this is difficult — you need to turn off your phone. You need to actually look at the people who are near you and around you and decide that it is humans who ultimately are the most important things to us, not the other aspects."
Watch Schmidt's speech at Carnegie Mellon on YouTube. You can also download Schmidt's speech and find other commencement-related speeches at Carnegie Mellon on iTunes U.

Student speaker Allison Lukacsy (A'09) also encouraged graduates to play their part in a positive tomorrow.

"We are not through with change," she said. "At Carnegie Mellon, we are the catalyst for change." Watch Lukacsy's speech at Carnegie Mellon on YouTube.
President Jared L. Cohon underscored the momentous events the graduates experienced over the last several years, from a historic election to two Super Bowl victories to Randy Pausch's inspiring Last Lecture that moved the nation. He also recognized the world they face upon graduation today. 
"It may seem this may be just about the worst of times, with challenges daunting beyond measure," said Cohon. "But in another sense, this is an exciting time, filled with opportunity for those skilled enough and confident enough to take on the challenges. Are you ready, the Class of 2009? I say, 'Absolutely yes.'"
Watch President Cohon's speech.
Schmidt received an honorary degree in science and technology from Carnegie Mellon, sharing the commencement platform with four other honorary degree recipients:
Thomas Detre, M.D., Doctor of Humane Letters;
Keith Lockhart (MFA'83), Doctor of Fine Arts;
Phylicia Rashad, Doctor of Fine Arts; and
Harold Shapiro, Doctor of Public Policy.
Learn more about these distinguished honorees.
Carnegie Mellon researchers behind the ground-breaking GigaPan — which allows people to take, share and interact with high-resolution, panoramic pictures — also captured a shot of graduation. To learn more about GigPan, watch this video.
The ceremony in Pittsburgh is one of multiple Carnegie Mellon commencements around the globe, including the recent ceremony at Carnegie Mellon University in Qatar and an upcoming ceremony Aug. 8 in Silicon Valley.
Related Links: Watch at Carnegie Mellon on YouTube  |  Download Commencement Speeches on iTunes U  |  GigaPan: Commencement 2009  |  Watch the Student Speech  |  Watch President Cohon's Speech  |  About Commencement  |  Alumni Association
---