Lockhart, Cárdenes at Carnegie Hall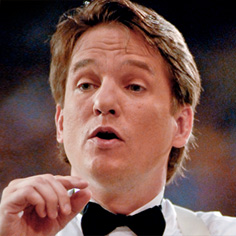 A night at Carnegie Hall featuring world-renowned musicians — for the same price as a night at the movies. Now's your chance.
On Jan. 30, the Carnegie Mellon Philharmonic — the flagship performing ensemble of Carnegie Mellon University's prestigious School of Music — presents a program of epic proportions in New York City's Carnegie Hall.
Led by celebrated conductor and School of Music alumnus Keith Lockhart, the performance will feature Gabriela Lena Frank's "Three Latin-American Dances for Orchestra," Edouard Lalo's "Symphonie espagnole" with Pittsburgh Symphony Orchestra Concertmaster and School of Music faculty member Andrés Cárdenes, and Gustav Mahler's "Symphony No. 1 in D Major."
Lockhart, music director and principal conductor of the Boston Pops Orchestra and Utah Symphony, leads the philharmonic in the capstone performance of a College of Fine Arts weekend in New York.
Noel Zahler, head of Carnegie Mellon's School of Music, welcomes Lockhart back to the helm of the ensemble he once led.
"As an alumnus, Keith Lockhart has achieved a level of success that we hope all of our students can attain," Zahler said. "It is our privilege to reunite him with Carnegie Mellon and have him lead our talented philharmonic."
Frank wrote "Three Latin-American Dances for Orchestra" in 2003, and Lockhart premiered the piece with the Utah Symphony in spring 2004. This 17-minute work features highly energized percussion, brass fanfare and Latin flavor.
The introductory movement is reminiscent of Leonard Bernstein's "Symphonic Dances from West Side Story," while the second movement "Highland Harawi" travels deep into the heart of Andean culture. The work closes with a brilliant and light waltz, a tribute to the cultures of the South American Pacific coast.
"Symphonie espagnole" features Cárdenes, the Dorothy Richard Starling & Alexander Speyer Jr. University Professor of Violin at Carnegie Mellon, as soloist.
"Andrés Cárdenes is a world-renowned performer," Lockhart said. "He is also a musical friend of mine and his inclusion, performing 'Symphony espagnole,' speaks to the world-class level of instruction at Carnegie Mellon."
Premiered in 1875 in Paris, Lalo composed "Symphonie espagnole" for, and dedicated it to violinist Pablo de Sarasate. Highlights of the piece include the colorful and virtuosic Spanish intermezzo and the firework-like finale.
Closing the concert is Mahler's "Symphony No. 1 in D Major," appropriately nicknamed "The Titan." While the name initially came from the composer's mention that the work was loosely based on Jean Paul's novel "The Titan," the title remained even though the literary connection faded with Mahler's revisions of the piece.
This four-movement epic work premiered in Budapest in 1889 to less than enthusiastic audiences. Mahler's nature- and bourgeois-inspired themes and thunderous finale were unlike anything 19th-century listeners had ever heard.
Lockhart, who holds a master's degree in orchestral conducting from Carnegie Mellon, describes this last piece as "a youthful work, full of vitality and passion. It is a perfect work for an excellent orchestra of young musicians."
Tickets are on sale for $15 and $25 and can be purchased online at www.carnegiehall.org or by calling 212-247-7800.
The Carnegie Mellon Philharmonic is comprised of student musicians from across the United States and 19 foreign countries. Philharmonic performances have been received enthusiastically by audiences and critics at such prestigious institutions as the Kennedy Center in Washington, D.C., Boston's Symphony Hall and Severance Hall in Cleveland.
Its recordings appear on the Mode Records, New World Records, New Albion and Carnegie Mellon record labels. The orchestra claims alumni in the New York Philharmonic, and the Chicago and Pittsburgh symphony orchestras, among many others.
Related Links: Buy Tickets  |  School of Music
---