Architect of Healing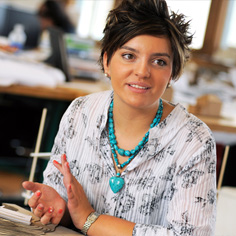 This time last year, Allison Lukacsy (A'09) was studying abroad in the Czech Republic. She fell in love with the people, the culture and the architecture of Prague — so much that she made it the subject of her senior thesis. Her project: turning a large and derelict Communist bunker into a community resource.
Lukacsy's vision is for positive change, something she will touch on in her speech at this weekend's 112th Commencement Ceremony. Her speech is aptly titled "Catalyst for Change."
"I believe at Carnegie Mellon we are the catalyst for change," she said. "We are the thinkers, leaders and innovators of the future, and I would like to instill in everyone the pride and passion and dedication that I feel for Carnegie Mellon."
While exploring Prague, Lukacsy stumbled on a large bunker that's sat unused since the fall of the Berlin Wall, and the vision stuck with her. She is designing a program that would fit into this bunker — including recreational facilities, community centers, conference centers for European Union officials and tourist amenities.
For Lukacsy, it's all about healing past conflicts.
"I am really interested in engaging three distinct groups that currently do not interact — the tourists who come and flood the city of Prague; the residents who are still grappling with their past and what they can do to move forward into the future; and the European Union officials, who are in the city for the year as the Czech Republic is the president of the European Union currently,"  she explained.
The project has a lot of historical, social and political implications because of the nature of the site. It was the site of the Velvet Revolution in 1989, and the site of what was once the world's tallest statue of Stalin, which is now gone.
Lukacsy's realization of her vision continues this summer, as she prepares a Fulbright Scholarship application to support her thesis and work on the project.
Lukacsy says the residents of Prague view the bunker as a very politically-charged environment.
"It has a very different meaning for them than the people who are coming to the site to get a view of the city, to get that picture postcard photo," Lukacsy said.
"I think the interaction between the people is something that could be really powerful, but the architecture there could really help mediate that meaning and that experience between people," she explained. "We experience things in very different ways based on our previous notions and our place in the world. My thought is that architecture really allows you to explore the self through an experience."
Lukacsy has just finished making a new model of her design in the woodshop — sanding and finishing through the weekend to have it done in time for a presentation. "I think and I hope that people will respond very positively," she said.
Related Links: VIDEO: Architect of Healing  |  Commencement Weekend  |  School of Architecture  |  College of Fine Arts
---