Carnegie Mellon will honor three esteemed faculty members for their dedication and achievements at the annual Education Awards ceremony at 4:30 p.m., Thursday, April 28, in Rangos Hall, University Center. Associate Teaching Professor of Philosophy Peter Madsen will receive the Robert E. Doherty Award for Sustained Contributions to Excellence in Education, Teaching Professor of Chemistry Karen Stump will be honored with the William H. and Frances S. Ryan Award for Meritorious Teaching and Associate Director of the Information Systems Program Stephen Pajewski will take home the Academic Advising Award.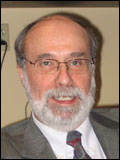 Peter Madsen
Peter Madsen is a natural choice for the Doherty Award, which recognizes faculty members for their contributions to the development, implementation and evaluation of educational programs at all levels, and for creating and maintaining an environment that fosters excellence in education.
Since arriving at Carnegie Mellon in 1988 to take the reins of the Center for the Advancement of Applied Ethics, Madsen's name has been synonymous with ethics education. He has created Heinz School courses that tackle ethical issues in management, public policy, information technology and healthcare. He directs the interdisciplinary Environmental Policy and Studies program and teaches three of its courses—Environmental Ethics; Management, Environment and Ethics; and Environmental Ethics and Decision Processes. His undergraduate course offerings include Computer, Society and Ethics; Business Ethics; and Ethical Judgments in Professional Life. The latter employs Web-based curricula, streaming video, video conferencing and online components that allow for dialogue between Carnegie Mellon students in Pittsburgh and students at the Instituto Technologico y Estudios Superiores de Monterey (ITESM) in Mexico. These long-distance, cross-cultural efforts have resulted in awards from the Council of Education and the Institute for International Education.
Madsen's impact on ethics in education isn't limited to Carnegie Mellon classrooms. He was co-primary investigator on the Ethical Decision-Making project, developed at Carnegie Mellon and funded by the National Science Foundation to help faculty at Carnegie Mellon and other universities integrate ethics into their curricula. The program has been implemented at ITESM and the University of Pittsburgh, where Madsen is adjunct faculty for the Katz School of Business and Graduate School of Public and International Affairs. He works with Carnegie Mellon's Office of Human Resources to conduct training programs in research ethics, and helped to integrate an ethics module into the required Computing Skills Workshop course for freshmen.
While Madsen receives high praise from colleagues for everything from course design to globalizing undergraduate education, his students best sum-up his influence. "Dr. Madsen has changed the way I think and act in the workplace," a former student said. "He takes the time to care about his students' thoughts and experiences—and then he compels them to move forward to deal with new and uncertain situations. These are the trademarks of an excellent teacher."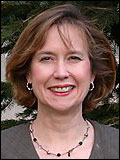 Karen Stump
Karen Stump will receive the William H. and Frances S. Ryan Award for Meritorious Teaching for her unusual devotion and effectiveness in teaching undergraduate or graduate students. Stump's nominators call her "one of Carnegie Mellon's true gems as a teacher, a mentor and an educational administrator who reaches beyond the bounds of any possible job description and makes Carnegie Mellon and our Pittsburgh community a better place for students and faculty."
Stump is best known for teaching Lab 1: Introduction to Chemical Analysis, which is offered each semester to roughly 75 chemists, biologists, engineers and pre-health students. The course goes beyond teaching traditional analytical chemistry and laboratory skills by incorporating a team project that imparts key professional skills like experimental design, scientific writing, formal presentations and group work. She has also helped to create Eureka!, a freshman seminar that introduces scientific discovery in an interdisciplinary context. As one of the course's designers, she played a critical role in the seminar's curriculum and the hands-on laboratory component, which has a forensics theme.
Stump's teaching doesn't stop in the lab or classroom. Her door is always open to students, and she supervises undergraduate research projects and co-advises the Women in Science organization. She also created a teaching assistant training program, leads K-12 outreach programs and designed the state-funded Governor's Institute for Physical Science Educators program.
Perhaps the most visible sign of Stump's commitment to education is the new Interdisciplinary Undergraduate Science Laboratories in Doherty Hall. "The most undeniable evidence of Karen's devotion to Carnegie Mellon's students is that the Interdisciplinary Undergraduate Science Laboratories, which are an incredible asset in attracting and retaining top students, could simply not have become a reality if it weren't for her," says Mellon College of Science Dean Richard D. McCullough. "Karen's deep commitment to a flexible teaching space helped to produce a design that is now enabling faculty and students to be most creative."
One former student best summarizes Stump's impact as a teacher a mentor. "Whether it would be her open door beckoning each student's questions or concerns, her commitment to covering topics in lecture repeatedly until global understanding, or her individual attention to her students' professional futures, Professor Stump typifies not only the word 'teacher,' but 'advisor,' 'confidant,' and 'friend.'"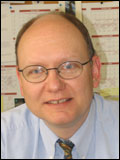 Stephen Pajewski
Stephen Pajewski will receive the Academic Advising Award for his outstanding contributions in helping students define and achieve their academic goals. Since he began advising students in the College of Humanities and Social Sciences (H&SS) in 1993, Pajewski has not only guided multitudes of students through requirements, but also "found ways, one student at a time, to make requirements work for students," says Joseph E Devine, associate dean of H&SS. Since 2001, Pajewski has served as the senior academic advisor and associate director of the Information Systems (IS) program, advising more than 250 undergraduates while meeting responsibilities for both program and student development. Pajewski's nominators say he "consistently provides support, encouragement, friendly conversation, responsiveness and sound advising"—all while remembering hundreds of students' names and faces.
Pajewski's dedication to students goes beyond typical advising activities. He helped develop the student IS club, IS.net, and served as a mentor for the club's membership. He also sits on the university's Second Year Council and chairs Carnegie Mellon's Task Force on Academic Advising, which examines advising processes on campus and develops a vision for what academic advising should be at the university. He offers a colloquium for first-year students and special assistance for those who are at-risk or challenged. His latest effort is a workshop for seniors to ease their transition from college to work.
Students cite Pajewski's genuine concern for their welfare, his "unprecedented open-door policy" and cooperative, friendly nature as keys to their ultimate success at Carnegie Mellon. "I feel that Steve has a genuine concern for my success that stems from both an authentic respect for his students and the knowledge that an education means more than a framed degree," said junior Michael Szczerban. "Steve Pajewski has been a consummately capable advisor and my strongest ally at Carnegie Mellon."
As part of the Education Awards, doctoral students Victor Cohen (English) and Ipek Ozkaya (Architecture) will receive the Graduate Student Teaching Award. Read more here.


Susan Cribbs
April 26, 2005