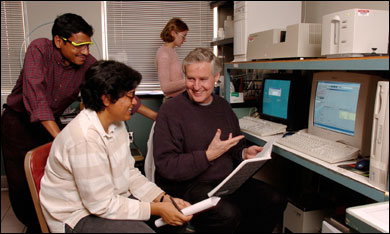 "The graduate students in my laboratory have driven our research to exciting new frontiers," says Terry Collins (center), director of the Institute for Green Oxidation Chemistry.
Faculty members rely on them to carry out innovative research. Undergraduates depend upon them for mentoring and help with difficult assignments. And ultimately, their success as professionals determines the real success of the university.
It's easy to see that graduate students are at the center of university life. Nowhere is this more evident than at Carnegie Mellon, which has 4,274 graduate students whose creativity, intellect and contributions are being honored April 4-8 as part of Graduate and Professional Student Association Week.
More than 100,000 graduate and professional students studying in the Commonwealth strengthen the state economy, according to a Governor's proclamation honoring their contributions.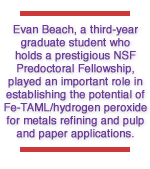 At Carnegie Mellon, graduate students are at the heart of national and international recognition earned by myriad research projects.
"The graduate students in my laboratory have driven our research to exciting new frontiers," says Terry Collins, director of the Institute for Green Oxidation Chemistry at the Mellon College of Science. "I'm extremely impressed with their commitment to developing environmentally friendly technologies that will create a safer, sustainable environment."
Over the past two decades, the Collins laboratory has developed a suite of chemical catalysts called Fe-TAML activators. In conjunction with hydrogen peroxide, Fe-TAMLs have shown great promise for attacking a broad range of environmental problems. These include killing water-borne spores and providing a highly efficient method for destroying toxicants in water, for eliminating dye transfer from one fabric to another in household laundry processes, for reducing pollutants associated with the textile and paper mill industries, and for rapidly destroying chemical warfare agents, expired pesticides and pesticide residuals.
Evan Beach, a third-year graduate student who holds a prestigious NSF Predoctoral Fellowship, played an important role in establishing the potential of Fe-TAML/hydrogen peroxide for metals refining and pulp and paper applications, according to Collins. "Evan loves learning about chemistry and carrying out research. His work mixes fundamental and applied chemistry and he has laid a significant groundwork for understanding and explaining the chemistry that we observe in many of the industrial applications that the Institute is currently pursuing."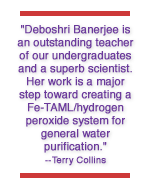 A fourth-year graduate student, Deboshri Banerjee, has carried out tests of Fe-TAML/hydrogen peroxide against water-borne surrogates of anthrax spores, showing that this approach can rapidly and completely kill spores in water.
"Deboshri is primarily responsible for creating a decontamination technology that can rapidly deactivate spores of the common anthrax surrogate, Bacillus atrophaeus. Anthrax spores present the most difficult challenge to scientists developing technologies for biological warfare and terrorism agents. Her method is non-toxic and it is more user-friendly and nondestructive than the incumbent systems, as well as being economically viable," Collins said.
Banerjee, who plans to return to her native India upon graduation to help develop green chemistry education and research at the university level, is being honored this spring as a Teresa Heinz Scholar in Environmental Research.
"Deboshri is an outstanding teacher of our undergraduates and a superb scientist," said Collins. "Her work is a major step toward creating a Fe-TAML/hydrogen peroxide system for general water purification. This advance could make a tremendous difference to drinking water quality across the world, including in Banerjee's home country."


Lauren Ward
April 6, 2005