Carnegie Mellon Spin-off Receives Financial Boost to Make Electricity-Conducting Plastics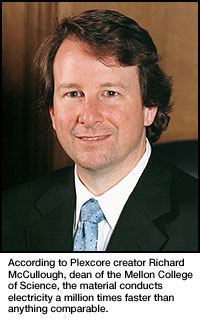 Carnegie Mellon spin-off PlextronicsSM Inc. has received investor and state financing totaling $3.4 million to bolster research and production of a plastic that conducts electricity. The material, called Plexcore™, could be integrated into the latest miniaturized electronic devices, flexible flat panel displays and coatings that could solve costly problems like electrostatic discharge and corrosion.
According to Plexcore creator Richard McCullough, dean of the Mellon College of Science, the material conducts electricity a million times faster than anything comparable. Since its initial discovery, McCullough's laboratory has developed and patented commercially scalable ways to make high-grade, bulk quantities of this inherently conducting polymer (ICP). The lab has also developed processes that enable Plexcore to blend with other materials so that they offer a flexible, wide range of product applications.
The new financial support for Plextronics came from Smithfield Trust Company and Innovation Works, along with new and existing angel investors. Funding also came from the Pennsylvania Department of Community and Economic Development and an equipment line of credit with Silicon Valley Bank. Plextronics has secured total financing of $4.6 million since its July 2002 founding.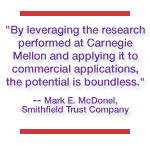 "We are very excited about this funding, which gives Plextronics the needed fuel to develop products ranging from nanoscale plastic electronics to coatings and bulk plastics that are in demand by electronics and coatings industries," said McCullough.
"The ICP market is beginning to explode," explained Mark E. McDonel of Smithfield Trust Company. "According to Business Communications Co.," he said, "the North American market for conductive polymers will increase eight-fold to $1.6 billion over the next four years. Plextronics is at the leading edge of this revolution. By leveraging the research performed at Carnegie Mellon and applying it to commercial applications, the potential is boundless."
"We feel confident that our investment in Plextronics' expansion is a solid investment for Allegheny County and for the Commonwealth," said Community and Economic Development Secretary Dennis Yablonsky. "We are pleased to provide the support that will help Plextronics realize the commercial significance of this powerful technology. We commend them for choosing to expand in Western Pennsylvania and welcome the 85 jobs they will create in Pittsburgh over the next three years."
"Pittsburgh is the right place to build this company. It has a rich history as a materials science innovator, and Plextronics represents the next generation of that lineage. In addition, some of our biggest potential customers are right in our backyard, and there is a wealth of plastics and coatings companies that reside in western Pennsylvania," said Andy Hannah, President and CEO of Plextronics. "New investors such as Smithfield Trust Company, the ongoing support of Innovation Works and the assistance of the Commonwealth of Pennsylvania underscore how well the region understands this type of innovation."
Lauren Ward