MCS Program Trains a New Breed of Scientist

With an undergraduate background in biology and medical technology, Joyce Wei realized early on that she didn't like working in a laboratory and that she wasn't interested in patient care. So she turned to Carnegie Mellon's computational biology program, a curriculum that uses computers to help understand and solve biological processes and solutions.
"I wanted to find a balance between doing something with biology and doing something that wouldn't require me to spend my whole life in the lab," Wei said.
It seems that Wei made a good decision. Biology is rapidly changing into a science of managing information, according to the National Institutes of Health, which recently embarked on a major bioinformatics and computational biology initiative. Inundated with large amounts of data, biologists in academic and corporate settings have begun to tap into the power of computers and computational methods to help them make sense of it all.
Carnegie Mellon is ahead of the game. In 1999, building on the university's strength in computer science and tradition of interdisciplinary research, Robert Murphy, professor of biological sciences and biomedical engineering, and a member of the Center for Automated Learning and Discovery in the School of Computer Science, established the M.S. program in Computational Biology at the Mellon College of Science. The college has offered an undergraduate degree program in computational biology since 1987. It is one of only a few computational biology programs in the nation.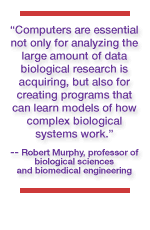 "The field of computational biology covers the ways computers can be used to solve biological problems," explained Murphy. "Computers are essential not only for analyzing the large amount of data biological research is acquiring, but also for creating programs that can learn models of how complex biological systems work."
Last summer, Wei interned at Immunetrics, a small, Pittsburgh-based company that has created a computer model that simulates acute inflammation, which is a fundamental component of the body's response to life-threatening situations such as trauma, shock and infection. By generating an accurate computer model of the thousands of molecular and cellular interactions that lead to the body's inflammatory response, the team of medical doctors, scientists and mathematicians at Immunetrics hopes to reduce the cost and duration of developing drugs to treat acute complex indications such as sepsis, the number one killer in intensive care units.
At Immunetrics, where she will work full-time now that she has graduated, Wei was in charge of gathering information to better understand coagulation, the process of blood clotting. This work should make the computer model more accurate. After researching 12 of the proteins involved in the blood clotting process, Wei drew detailed diagrams of how these coagulation factors interact with one another in an intricate and well-choreographed cascade leading to the formation of a blood clot. Her diagrams then went to a mathematician who developed equations that were incorporated into the Immunetrics software.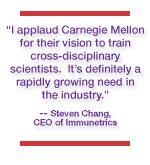 "Cross-disciplinary students such as Joyce are still a rare breed. She was able to come into Immunetrics and ultimately assist in unraveling the mysteries of a key biological system," said Steven Chang, Chief Executive Officer of Immunetrics. "I applaud Carnegie Mellon for their vision to train cross-disciplinary scientists. It's definitely a rapidly growing need in the industry."
At Carnegie Mellon, master's degree students take core courses in computational biology, computational molecular biology and genomics and biological modeling. The coursework also gives students a rigorous training in computer science, such as applying machine learning to biological problems, so that they can tackle a range of emerging computational problems driven by the newest genomic and proteomic research, as well as other areas of biological research.
Murphy, Dannie Durand, associate professor in the departments of Biological Sciences and Computer Science, and Russell Schwartz, assistant professor in the Department of Biological Sciences, make up the core computational biology faculty. In addition, many other members of the Biological Sciences Department collaborate with computational and mathematical scientists at the Mellon College of Science and the School of Computer Science, reflecting the strong interdisciplinary ties that exist across campus.
Interest in Carnegie Mellon's computational biology programs is strong, according to Murphy, who receives dozens of inquiries from students each month. The growth of biological data and the pressing need to make sense of it all should only fuel the needs of academic institutions and biotech companies for talent in this field.
Amy Pavlak