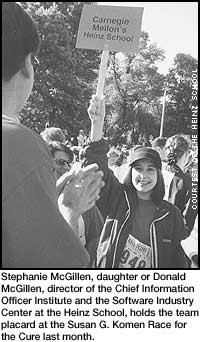 Heinz School Races for the Cure
More than 85 members of the Heinz School community and their families participated in the Pittsburgh Susan G. Komen Race for the Cure last May in a show of support for breast cancer patient Margie Hinebaugh, director of fiscal management for the Heinz School.
The Race for the Cure, held in more than 100 cities across the country, benefits the Susan G. Komen Breast Cancer Foundation, which supports breast cancer research and programs.
The Heinz School team, which included Hinebaugh and her husband, wore aqua t-shirts that read "Fear can hold you prisoner, Hope can set you free" on the front and "Carnegie Mellon's Heinz School: Racing for the Cure" on the back. The shirt was designed by Kim Bricker, Hinebaugh's work-study student.
"For survivors, it's (the race) really important because this kind of support really helps," said Hinebaugh, who completed chemotherapy treatments three weeks before the race. "You have to be confident in your ability to get through it, and hearing people cheer you on really helps."
Pittsburgh's Race for the Cure attracted more than 35,000 participants and raised more than $1.2 million making it the sixth largest Race for the Cure in the country. About 75 percent of the proceeds are used to support breast cancer programs in western Pennsylvania.
Karen Beaudway
(06/27/01)