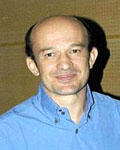 Bruno Antonny is at the CNRS Institut de Pharmacologie Moléculaire et Cellulaire and a professor at the Université de Nice Sophia Antipolis. He studies how proteins continuously remodel cellular membranes in the Golgi and other organelles involved in intracellular transport. For instance, protein coats can deform membranes mechanically, thus driving vesicle budding. To study such events, Dr. Antonny uses both molecular and cellular approaches, relying on cells as well as reconstituted systems. Emphasis is put on regions that allow proteins to sense the state of lipid membranes and to adjust their activity accordingly. More ...
Jennifer Lippincott-Schwartz is the Section Chief of Organelle Biology at the Cell Biology and Metabolism Branch of the Eunice Kennedy Shriver National Institute of Child Health and Human Development (NICHD). She developes live cell imaging approaches to analyze the spatio-temporal behavior and dynamic interactions of molecules in cells. Her work has helped to change the conventional 'static' view of protein distribution and function in cells to a more dynamic view that integrates information on protein localization, concentration, diffusion and interactions, indiscernible from protein sequences and in vitro biochemical experiments alone. She is a member of the National Academy of Sciences. More ...

Tobias Baumgart is at the Department of Chemistry of the University of Pennsylvania. His laboratory studies the physical chemistry of membranes with lateral heterogeneity resulting from non-ideal mixing, with an emphasis on the coupling between the compositional and the curvature degrees of freedom. He focuses on freely suspended membranes (vesicles) with coexisting fluid phases, which are manipulated and probed with micropipettes. More ...