UDream
The Inspire Speaker Series: Inspirational Stories about Creating a Sustainable, Vibrant, Healthy and Just Region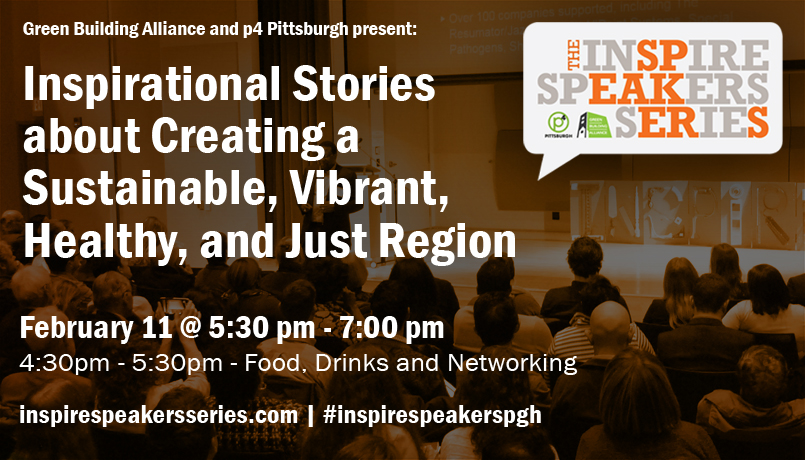 Storytelling is our way of expressing the soul of our community to one another. Stories expose our beliefs, emotions and vulnerabilities that can connect with people in ways that facts and statistics can't. Stories foster empathy, remind us of what it means to be human, and challenge us to be the change we seek.
Join us to hear stories from citizens who are working to create sustainable, vibrant, healthy, and just places for us all to live, work, learn, and play. This Moth-style and TED-like event will dare us to dream big about what is possible for our communities, projects, and places.

Speakers include Vivian Loftness & Christian Hughes!

continue reading »»
---
(Urban Design Regional Employment Action for Minorities)
UDream increases diversity in the profession of urban design nationally, and in the Pittsburgh region specifically, by offering opportunities for permanent employment in Pittsburgh.
---
Do UDream in 2016?
Apply online by January 29, 2016 for consideration.  For details, click here.
........................................................................................................
Dreaming of New Cities
Many participants have stayed in Pittsburgh, implementing new concepts for neighborhoods, working in local architecture firms and participating in a new local chapter of the National Organization of Minority Architects (NOMA). Before the program began seven years ago, it was a very different city — Pittsburgh had lost its NOMA chapter because there were so few minority architects.
---
About
Architecture Building Communities
News + Updates
Upcoming Events
Spotlight Feature
Resource(s)