Susan Polansky
Head, Modern Languages & Teaching Professor of Hispanic Studies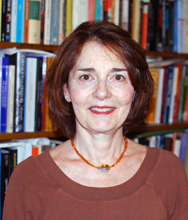 Address:
Department of Modern Languages
Carnegie Mellon University
Baker Hall 160
Pittsburgh, PA 15213
Office: BH 168
Phone: (412) 268-2868
Fax: (412) 268-1328
Department Member Since: 1986
Bio
My teaching and research activities in Hispanic Studies, service learning, and the development of curricular materials have always been closely connected and have invigorated each other. Over the years, I have taught courses at all levels of the Hispanic Studies program, and most recently and regularly I have led the Department's Tutoring for Community Outreach service-learning course as well as offered topics courses focusing on Peninsular Spanish Studies.
Tutoring for Community Outreach is built on a longstanding collaboration between the Department of Modern Languages and the Pittsburgh Public Schools. This opportunity for community-based learning reflects the growing trend of universities and local partners building productive linkages for learning and growth.  Undergraduate students of Modern Languages with a wide variety of academic and career interests work with pupils and teachers of Chinese, French, German, Japanese, Spanish, and English as a Second Language in grades one through twelve.  My colleagues, students and I have given presentations and published works to share the history and activities of this flexible curriculum-based model.
My research in Peninsular Spanish literature focuses primarily on twentieth-century Spanish writers. 
The Poet as Hero: Pedro Salinas and His Theater
is a study of the senior member of the Spanish Generation of 1927 and his turn to writing plays in exile from Spain. My most recent book is an unabridged, student-friendly edition of the novel
Abel Sánchez
by Miguel de Unamuno (see
http://www.LinguaTextLtd.com
).  With an introduction, notes, and glossary, the edition is designed to promote students' reading ability in Spanish and enhance appreciation of Unamuno's incisive treatment of the passion of envy set in the context of Spanish history.
My teaching has also informed the development of Spanish textbooks for intermediate and advanced level students as well as a work text for elementary level students.  I have coauthored with Gene S. Kupferschmid
Eso es
, with activities for grammar review through independent study and group work, and
Exploraciones: Campos y culturas profesionales
, designed to offer students a vehicle for learning about a variety of fields and career paths via their study of Spanish.
Education
Ph.D., Boston College, 1984
Selected Work
Books
Abel Sánchez. Newark, Delaware: European Masterpieces/Lingua Text, Ltd., 2008
The Poet as Hero: Pedro Salinas and His Theater. Newark, Delaware: Juan de La Cuesta-Hispanic Monographs, 2005.
Rhythm The Eternal Organizer. (Translation of Ritmo El eterno organizador by Victoria Santa Cruz). Lima. Ediciones Copé, Petróleos del Perú, 2005.
Exploraciones: Culturas y campos profesionales (with Gene S. Kupferschmid), Houghton Mifflin, 2001.
Eso es (with Gene S. Kupferschmid), Houghton Mifflin, 2001.
Puntos de vista Lectura, Heinle & Heinle Publishers, January 1994.
Puntos de vista Instructor's Manual, (With Welch, Koike, and Biron), Heinle & Heinle Publishers, 1994.
Testing Program Con mucho gusto, Holt, Rinehart and Winston, 1988, 1995.
Articles
"Tales of Tutors: The Role of Narrative in Language Learning and Service-Learning" (with Andrianoff, Bernard, Flores, Gardocki, Handerhan, Park and Young). Foreign Language Annals, Summer 2010.
"Dos leyendas de tiempo interrumpido: Así que pasen cinco años por Federico García Lorca y La familia interrumpida por Luis Cernuda". Hispania, May 2007.
"Tutoring for Community Outreach: A Course Model for Language Learning and Bridge Building between University and Public Schools," Foreign Language Annals, Fall 2004.
"Pedro Salinas," In Major Spanish Dramatists. Westport, CT: Greenwood Publishers, 2001.
"Lorca and Salinas in New York: Mannequins and the Modern Landscape," Hispania, September 2001.
Courses Taught
82-141 Elementary Spanish I
82-142 Elementary Spanish II
82-241 Intermediate Spanish I
82-242 Intermediate Spanish II

82-281 Tutoring for Community Outreach

82-342 Spain Language and Culture
82-345 Introduction to Hispanic Literary and Cultural Studies: Reflections on Food in the Spanish-Speaking World
82-455/456 Topics in Hispanic Studies: Spanish Poets and Playwrights of Exile, Visions of Family Life in Twentieth Century Spain; Knights, Rogues, and Saints, Family Life and Strife in Twentieth and Twenty-first Century Spain
82-461 Political Drama of Spain