Enroll a TA Manually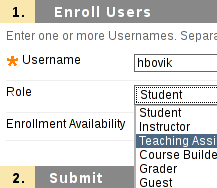 From the "Control Panel", select "Users and Groups" > "Users".
Click "Enroll User" > "Find Users to Enroll".
Enter the TA's Andrew ID under Username and change the role dropdown to "Teaching Assistant".
Click "Submit".
Get a Blackboard Demo
The Eberly Center schedules Blackboard demonstrations for instructors. This semester we have held Blackboard overview, gradebook, and collaboration tools demonstrations.
To request a demonstration, contact Blackboard support:
Additional Support Topics
Blackboard 9.1

Teaching

Other Support Places