President's Welcome Postponed
3 p.m., Saturday, Aug. 19
Severe weather is forecasted for the CMU campus over the next two hours.  Therefore, the 4 p.m. President's Welcome address to first-year students and their families is postponed to 9 a.m. Sunday in the Tent on the College of Fine Arts lawn.
---
Help ensure the safety and well-being of the CMU community.
University Police: 412-268-2323 
Ethics Hotline: 1-877-700-7050
What is CMU-Alert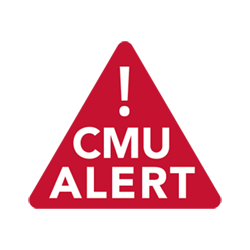 CMU-Alert is Carnegie Mellon's emergency notification system used to communicate important information during an emergency. Our system uses multiple methods of communication to ensure our campus and community is notified during an emergency situation.
Our system will send text and/or voice messages, and email to our faculty, staff and students.
Messages are posted to Facebook and Twitter for our parents, alumni and community.
Our emergency help stations on campus will emit alert tones and verbal instructions as well as provide a way to communicate with University Police.
Regular updates will be posted at the top of this webpage.
How Can I Be Notified During An Emergency
Students
Students are automatically enrolled for CMU-Alert.
Faculty and Staff
Faculty and staff are encouraged to register for the service.
What should I do when I receive an alert
Follow the directions of CMU-Alert messages unless doing so will place you in greater danger. CMU-Alert warnings are intended to support decisions for personal safety. When you become aware of a warning, make sure others around you are also aware of the potential danger. DO NOT respond to the scene of an emergency unless directed to do so. In addition to the possibility of becoming injured, your presence could interfere with the work of emergency response personnel.
How often is the system tested
The CMU-Alert system is tested during the spring and fall semesters. The university community will be notified in advance of all emergency tests. If there has been an event requiring the use of the system, we will use that in place of the semester test.
CMU mobile alert app
The CMU Mobile Alert App is a free iPhone and Android mobile app for students, faculty, staff and parents. It was developed to provide:
Guidance for 20 different emergency procedures;
Information regarding crimes and crime prevention;
Links to important Carnegie Mellon websites;
Interactive maps that provide information about locations of Automatic External Defibrillators (AEDs);
Automatic dialing for University Police, Safety Escorts and 911.