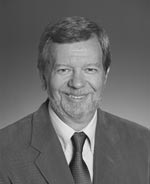 Richard Buchanan
Richard Buchanan is Professor of Design in the School of Design at Carnegie Mellon University. His research addresses issues of interaction design, verbal and visual communication, communication planning and design, and product development. He received a Ph.D. from the University of Chicago in 1973, and has been at Carnegie Mellon for 12 years.
Chapter 12, selection: Design, Making, and a New Culture of Inquiry
Richard Buchanan
When I was a student at the University of Chicago in the early 1970s, the eminent philosopher Richard McKeon came to class one day with a news clipping. This had never happened before in all the time that I had studied with him, so I listened carefully to understand what had attracted his attention. What he read was a story about the creation of a new university, formed from the union of the Carnegie Institute of Technology and the Mellon Institute of Science. The new institution would be called Carnegie Mellon University, and it would explore new problems in areas such as technology, cognitive psychology, decision making, and information processing. It would build on existing strengths in engineering, the natural sciences, cognitive psychology, economics and industrial administration, and the visual and performing arts. Thus, it would have some of the traditional disciplines found in other universities. However, it would also emphasize interdisciplinary collaboration and encourage the creation and development of new disciplines that would likely emerge from such collaborations in areas such as computer science, information and decision sciences, and design. In essence, Carnegie Mellon would cultivate the new sciences of the artificial, the domain that was articulated by Herbert A. Simon in the Compton Lectures, delivered at MIT in 1968 and soon afterward published as The Sciences of the Artificial.

At the time, I had little understanding of what the "sciences of the artificial" meant, except as a possible, if somewhat unusual, translation of "poetics" in the Greek tradition established by Aristotle. For Aristotle, "poetics" meant the productive sciences or the science of human-made things; he used the word as the title of his famous treatise on tragedy, which provides the primary example of his method of productive science. The leap of imagination from a study of the literary and dramatic form of tragedy to a study of technology, decision making, and human behavior was suggestive and, at the same time, puzzling. I did not know that the sciences of the artificial, whatever they are today or will become in the evolving intellectual environment of Carnegie Mellon, initially represented Simon's theory of design. Even more puzzling was the idea that "poetics" or the "sciences of the artificial" could form the basis for a new kind of university that would explore interdisciplinary connections among established disciplines of human learning and a variety of newly emerging disciplines focused on new problems of inquiry.