World Economic Forum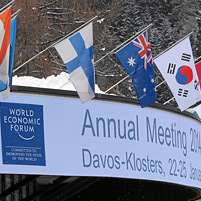 Davos, Switzerland
It was hard to miss Carnegie Mellon University's presence at the 2014 annual meeting of the World Economic Forum in Davos, Switzerland, which took place Jan. 22–25.

President Subra Suresh and CMU faculty moderated or led discussions on the future of education, advanced manufacturing, scientific research and robotics.

Tucked in the remote Swiss Alps, more than 2,500 participants, including more than 40 heads of state or government, attended the 44th World Economic Forum Annual Meeting. There were also approximately 20 CMU alumni, trustees and parents in attendance.

The annual meeting at Davos brings together global leaders in business, government and academia to network and help shape the world economic, political and scientific agenda. CMU is one of just 25 universities in the world invited to participate in the Forum through the Global University Leadership Forum (GULF).

This year's meeting was built on four themes: Achieving Inclusive Growth, Embracing Disruptive Innovation, Meeting Society's New Expectations and Sustaining a World of 9 Billion. CMU's contribution to the program was the most robust since it was first invited to participate in 2008.

Highlights included:

Wednesday, Jan. 22
CMU Ideas Lab: Unlocking the Potential of Human Learning
In November, President Suresh announced plans for the Simon Initiative, the acceleration of the university's multidisciplinary effort to explore ways in which technology can be harnessed to significantly improve learning outcomes for adults and children across the world. Dr. Suresh introduced three CMU faculty whose work is dedicated to ensuring students can reach their full potential:
Ken Koedinger — Professor of Human Computer Interaction and Psychology
Emma Brunskill — Professor of Computer Science
Justine Cassell — Charles M. Geschke Director, Human-Computer Interaction Institute
Global University Leaders Forum: New Paradigms for Universities of the Future
President Suresh participated in a discussion of how universities are adapting to prepare students for learning, living and leaving a legacy in a complex and interconnected world.
CMU Reception: Implications of the Global Learning Revolution
President Suresh and CMU faculty hosted an informal gathering to recap the day's events at Davos.
Thursday, Jan. 23
The Rise of Advanced Manufacturing
Justine Cassell moderated a panel discussion on the global progress of advanced manufacturing and how it will continue to shape both developed and developing world economies.
The Future of Learning
Picking up on the theme from the CMU IdeasLab, President Suresh joined education industry leaders in exploring the evolution of human learning and how basic and higher education models are responding to advances in online learning and social technology.
Friday, Jan. 24
Global University Leaders Forum: Seeking New Approaches to Critical Global Challenges
President Suresh led the discussion on the Global Agenda for Science, Technology and Innovation.
Saturday, Jan. 25
Panel Discussion: The Global Science Outlook
President Suresh, who served as the director of the U.S. National Science Foundation prior to his appointment at CMU, led a discussion on forces shaping future scientific research. The session was
webcast live
.
BetaZone: The Robot Revolution
Justine Cassell presented as a panelist on ways in which robots are evolving to enhance not only human/robot interactions, but how robots are becoming more socially adept to aid in interpersonal relations.
Related Links: CMU at the World Economic Forum | The Simon Initiative | World Economic Forum Annual Meeting 2014
---