Dow Jones Intern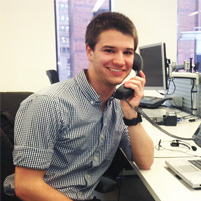 Braden Kelner
Carnegie Mellon University senior Braden Kelner learned the finesse of finance writing this summer as the Dow Jones & Co.'s first private equity editorial intern.

Kelner is bringing what he learned back to the Tartan newsroom this fall as editor in chief.

"For The Tartan, this experience taught me the importance of building relationships to write confidently. Now, I'm not afraid to reach out to members of the campus community to ask, 'What's happening on campus that students should know about?'" Kelner said. "Which always leads to more interesting, quirky stories."

The Dow Jones owns The Wall Street Journal and other financial news publications for consumers and corporate and financial clients.

Kelner worked as a copy editor for Private Equity Analyst, and wrote articles for the Dow Jones Private Equity and Venture Capital website.

"I broke a story about a private equity group — Veronis Suhler Stevenson was raising a new fund," he said.

Kelner, a professional writing and creative writing double major, said that classes he took in the Department of English such as the 76-390 Style course were invaluable.

"The ability to write as succinctly and clearly as possible helped tremendously during the interview process and during my internship," he said.

Kelner said his goal was to be a page designer/copy editor or reporter after graduation.

This was Kelner's second summer interning at Dow Jones. Previously he worked in the Customer Service department and suggested ways to streamline processes and improve communications with customers. He also spent a summer reporting at the Bucks County Courier Times.

Laura Kreutzer, assistant managing editor of Private Equity at Dow Jones & Co., supervised Kelner during his internship and said he had an eye for detail.

"Clearly he was somebody who cared about writing, cared about the news and is committed to the industry," she said. "If Braden is any indication of the caliber of the student who attends Carnegie Mellon, I will be keeping an eye out for more interns from that institution in the future."

Necia Werner, an assistant teaching professor of English and director of Professional and Technical Writing, said that internships are important for students studying in the Department of English because they provide professional experience and establish contacts outside the university.

"Students in English spent summer 2014 doing all kinds of important work, including internships and summer research. They studied abroad and volunteered for nonprofits," she said. "Wherever good communication skills are valued, you can find a Dietrich College English major making a difference."

Students added to their portfolios at organizations such as the Chautauqua Institution in New York, the Pittsburgh Zoo and Aquarium, Miramax, Salesforce.com, Mylan, IBM and Cambridge University Press, to name a few.

"This is just a small snapshot from a much larger list. Our students are amazing," Werner said. "They make us, as we say in Dietrich College, 'DC Proud.'

"We are fortunate to have a lot of dedicated people who collaborate to help our students get connected. We have a tremendous alumni network, support from the Career and Professional Development Center, resources from Dietrich College in the form of grants for unpaid and underpaid internships, networking opportunities like Under Construction and a thriving internship for credit program," Werner said.
Related Links: Dietrich College of Humanities and Social Sciences | Department of English | Career and Professional Development Center | Under Construction
---