CMU Invests in 16 Startups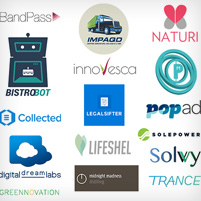 Carnegie Mellon University's Open Field Entrepreneurs Fund (OFEF), administered by CMU's Center for Innovation and Entrepreneurship, has awarded $800,000 to 16 startup companies to help them grow their business ventures.

The fund, established by Carnegie Mellon alumnus and Flip Video Camera creator Jonathan Kaplan (TPR'90) and his wife, Marci Glazer, provides early-stage business financing and support to alumni who have graduated from CMU within the last five years.

The recipients constitute awardees for the fourth and fifth cycles of the program, which began in June 2012. Since the program's inception, 37 CMU-related startup companies have been awarded more than $1.8 million.

"Research and learning at Carnegie Mellon generates great ideas and talented innovators," said Robert M. Dammon, CIE board member and dean of the Tepper School of Business. "Jonathan Kaplan is a prime example of an outstanding entrepreneur with proven successes in leading startup companies. The Kaplans' contribution to create and sustain the Open Field Entrepreneurs Fund is a valuable asset to our students and recent graduates that are seeking to successfully introduce new products and services to the marketplace."

Current awardees are introducing products and services that will benefit humanity in aspects such as development of affordable and sustainable housing, revelation of nutritional value in food products, community safety, retail inventory efficiency and more.

CMU is known for its entrepreneurial culture having launched 36 startups in 2013 and more than 130 companies over the last five years. It ranks first among U.S. universities without a medical school in the number of startup companies created per research dollar spent since 2007. In addition, CMU spinoffs represent more than a third of the total companies created in Pennsylvania based on university technologies during the past five years.

"The Open Field Entrepreneurs Fund is one of the programs that makes Carnegie Mellon a destination of choice for students, faculty and staff who are serious about entrepreneurship," said Dave Mawhinney, co-director of the Carnegie Mellon Center for Innovation and Entrepreneurship. "It provides newly founded companies with critical resources at the right time in their startup development, enabling them to grow to the next level. Plus, connection with elite entrepreneurs like Jonathan Kaplan is vastly beneficial to our both students and alumni entrepreneurship community."

Each OFEF recipient receives a $50,000 investment along with personalized mentoring from CMU faculty and alumni. Peter Stern (E'89), a Carnegie Mellon University classmate of Kaplan, co-founder of Datek Online and a serial entrepreneur, provides advisory support for the fund and serves as a mentor to one of the OFEF award recipients.
Related Links: Read press release | Center for Innovation and Entrepreneurship | Open Field Entrepreneurship Fund | Meet the Companies (Fourth Cycle) | Meet the Companies (Fifth Cycle)
---