CMU in Haiti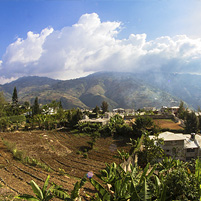 Photo credit: David Baboolall (DC'15)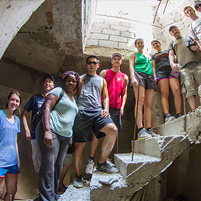 Members of CMU in Haiti. Photo credit: David Baboolall (DC'15)
Since a catastrophic earthquake ripped apart Haiti in 2010, Carnegie Mellon University has provided ongoing support to the Caribbean island nation through a patchwork of outreach organizations.

CMU in Haiti, a new student organization, has taken that effort and is guiding collaboration inside and outside the university going forward.

Four years ago, the university community worked with fundraising for Brothers' Brothers Foundation, the nonprofit Hopital Albert Schweitzer Haiti (HAS) and the American Red Cross.

"With the leadership of then Student Body President Rotimi Abimbola (DC'10) the campus community really showcased collaboration and the values of compassion and willingness to go above and beyond for the global community," said M. Shernell Smith, assistant director of the Office of the Dean of Student Affairs.

Last week, HAS attended CMU's Volunteer Fair in hopes of partnering with the university. The nonprofit and CMU are in talks about a possible program in January 2015 with the theme "Revisiting Haiti: 5 years later."

CMU in Haiti took its first trip to the country during spring break this year. The idea for the group came from a freshman seminar course, "The Uses and Abuses of Haiti," taught by Michael West, a teaching professor of French and Francophone Studies.

"[Our] goal is to provide support for on-the-ground, humanitarian efforts and to assist in the enduring effort of rebuilding Haiti through advocacy, service trips and collaboration with Haitian grassroots organizations and their leaders," said CMU in Haiti President Laura Scherb (DC'16). "We aim to strengthen the existing links between Haiti and Carnegie Mellon University — including the broader Pittsburgh community — and to celebrate a global and cultural exchange by focusing on issues of development, infrastructure, education and health."

Scherb said it's also been rewarding to connect to organizations run by CMU alumni.

One group is Team Tassy, which is committed to giving Haitians the resources they need to work toward sustainability. Vivien Luk (HNZ'07) serves as Team Tassy's executive director.

"Working at Team Tassy allows me to use my CMU training and past work experience to tackle one of our world's biggest challenges — global poverty," Luk said. "CMU provided me with the analytical skills to understand the fight the poor face everyday and to figure out what we need to do together to end it."

Luk started at Team Tassy in 2012 after receiving a phone call from CMU alumna Jenna Knapp (HNZ'09) to talk about Team Tassy's sister for-profit, Thread.

"They were looking for someone to build the nonprofit from the ground up. My CMU training and thesis project was where I got the foundation to do this," Luk said. "The Team Tassy/Thread partnership model made a lot of sense in terms of building on the strongest assets of both entities to solve a major challenge."

This year will mark Team Tassy's Third Annual Great American Water Balloon Fight, which helps raise money and awareness for Haiti. The event will be on Sept. 6 at Schenley Plaza in Oakland.

Scherb, along with other members of CMU in Haiti, will be at the event helping to make sure everything goes as planned. They will be assisting with the "filling parties" to make sure there are plenty of water balloons, as well as helping with general crowd control.

"We're going to volunteer with [Team Tassy's] coordination planning and make sure that the event runs smoothly," Scherb said.

Scherb is still unsure as to what she wants to do when she graduates, but she does know one thing — she wants to make a difference.

"I have many different interests and passions, but one that will never change is the drive to make an impact in people's lives. Whether that manifests itself through living and working in Haiti or in the United States, I will never be able to forget the people I met and the experiences I had in Haiti," Scherb said.
Related Links: CMU in Haiti Forges Bonds Over Spring Break | Dietrich College | French and Francophone Studies | Modern Languages | Heinz College
---