Case Studies: Rise of the Rest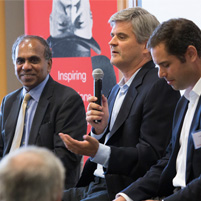 President Subra Suresh, Steve Case, Luke Skurman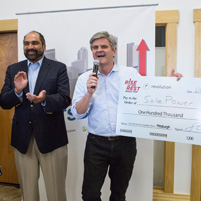 Franco Harris, Steve Case
Steve Case, co-founder of AOL, visited Pittsburgh to shine a spotlight on innovation as part of his "Rise of the Rest" four-city bus tour.
Among local success stories is Carnegie Mellon University startup
Sole Power
, which won $100,000 in angel investment from Case.
"Pittsburgh has humility, a reluctance to beat its chest and talk about all the great things you're doing," Case said during a stop at the university, where he spoke with CMU President Subra Suresh and local officials, venture capitalists, entrepreneurs, reporters and investors.
"But the story around Pittsburgh and Carnegie Mellon is not as well understood as it needs to be if this region is going to continue to rise as a great entrepreneurial region," Case said.
Great visit to @CarnegieMellon. Thanks Subra Suresh for hosting our #RiseOfRest tour. CMU is a treasure! pic.twitter.com/KQeeqnenYO

— Steve Case (@SteveCase) June 25, 2014


President Suresh said that Carnegie Mellon is among the top institutions by any metric in spinning out more companies per dollar of federal research funds spent. In addition CMU was one of the top five U.S. universities in attracting venture capital funding for its spinout companies last year.

"But it was the only university in the group of five not located on either coast, which in itself is a remarkable feat," Dr. Suresh said. "This is very much around what Steve Case's Rise of the Rest tour is about."

The visit was part of Case's bus tour through Detroit, Pittsburgh, Cincinnati and Nashville, Tenn., to showcase how vibrant startup communities are gaining momentum in middle America.

Luke Skurman (TPR'02, HNZ'04), CEO of the Pittsburgh-based Niche and a CMU Board of Trustee member who was a part of the conversation, said that he met Case three years ago.

"Steve really does believe what he's talking about," Skurman said.

As chairman and CEO of Revolution, an investment firm based in Washington, D.C., Case is helping to build entrepreneurialism. His firm has committed 90 percent of its funds into companies outside of Silicon Valley and New York City.

Case said that he is interested in investing in Pittsburgh in particular with later-stage companies.

"We would love to make an investment in Pittsburgh in the next couple of years," Case said. After his conversation with Dr. Suresh and others, he met with faculty and alumni entrepreneurs to learn more about their companies before heading to startup incubator AlphaLab Gear in East Liberty.

An enthusiastic crowd of young entrepreneurs filled AlphaLab Gear to cheer on 10 companies who had five minutes each to pitch their startup. Judges for the competition included Case; Skurman; local venture capitalist Jay Katarancic, from Draper Triangle Ventures; Debra Lam, the City of Pittsburgh's first chief of innovation & performance; and Franco Harris, a Steelers legend and entrepreneur.

Seven of the companies had CMU connections through its founders or employees. In the end, it was one of those companies that the judges selected as the winner of a personal $100,000 investment by Case and mentoring from Revolution.

Sole Power, which has developed proprietary technology to store energy created when walking or running in a battery that can be used to charge electronic devices such as cellphones or tablets, walked away with the prize.

Co-founder Hahna Alexander (E'12) impressed the panel with her description of the company's unique technology, solid business plan and strong early demand from customers as varied as the Department of Defense, which sees tremendous field applications, as well as premiere outdoors gear marketing companies. Harris, a Hall of Fame running back, joked that he doesn't do much running anymore, but was impressed with the company's concept.
 
Alexander and co-founder Matthew Stanton (E'12), both College of Engineering alumni took advantage of CMU's startup ecosystem.

Sole Power received support from the Carnegie Mellon Open Field Entrepreneurs Fund in the fall of 2013, and has participated in Project Olympus and the Donald H. Jones Center for Entrepreneurship, at the CMU Center for Innovation and Entrepreneurship (CIE) as well as the Center for Technology Transfer and Enterprise Creation. The company took top honors at the 2013 McGinnis Venture Competition hosted by the CIE and was named a 2014 Popular Science Invention Award.

Alexander demonstrated Sole Power's technology at the first White House Maker Faire, held June 18. The company is currently seeking to raise $2.5 million in funding to expand its R&D and scale up production.
 
"This has probably been the most impressive business plan pitch event I have ever been involved with. Pittsburgh is clearly on the rise," Case said before reveling for a short time at the post-pitch happy hour before boarding the Rise of the Rest bus for Cincinnati.
Related Links: College of Engineering | Open Field Entrepreneurs Fund | Project Olympus | Donald H. Jones Center for Entrepreneurship | Center for Innovation and Entrepreneurship | Center for Technology Transfer and Entrepreneurship Creation
---