Treasury of Ability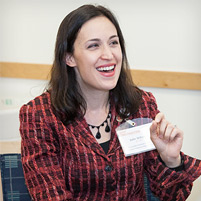 Julie Wilson
As a Carnegie Mellon University undergraduate, Julie Wilson (DC'99) gained valuable life skills and problem-solving abilities. Today, she uses that expertise as associate general counsel of the National Treasury Employees Union, the nation's largest independent union of federal workers.

"CMU teaches its students how to solve problems — an invaluable skill in today's world," Wilson said. "But CMU also teaches students a resilience that is both uncommon and especially valued in the workplace."

Wilson practices plaintiff-side federal labor and employment law, analyzing interpretation issues and supervising staff attorneys in litigation before forums that include the U.S. Supreme Court.

"Essentially, my work involves finding ways to help employees and managers improve their working environment, and by extension, their productivity," she said.

The Erie, Pa., native enrolled at CMU after a memorable first visit.

"I was struck by the students' stories, especially the very cool things that they were doing, their self-confidence and the overall culture of excellence," Wilson recalled.

Eager to take advantage of as much as she could while at CMU, she triple-majored in political science, social history and Spanish, and was a Fifth Year Scholar.

She also was a member of the CMU Pre-Law Society, which is directed by Dietrich College Associate Dean Jay Devine.

Wilson recalls one particularly unforgettable lesson. As a brand-new freshman, she tried to drop down to a lower-level Spanish class from the intermediate one she started. But at the insistence of the Department of Modern Languages, she successfully completed the tougher course.

"They knew something I didn't — that sometimes the effort is the most important part of the journey," she said. "The faculty and staff, led then by Richard Tucker and now by Susan Polansky, were some of the best examples of what CMU teaches." 

Wilson returned to campus as a panelist during the Dietrich College's annual Under Construction: Building Your Future event, a daylong gathering where alumni assist students in career navigation.

She's also active on the Alumni Association Board and served as president of the Washington, D.C. alumni chapter.

"I'm a Loyal Scot," Wilson stressed. "I stay involved because it matters — to me, the current students and the university. Like others, I learned how to make a really good living at Carnegie Mellon because the school taught me how to learn and think. Now it's my turn to give back to the university that gave me a stellar education and life-long friends.

"There are so many ways to volunteer," she added. "And so many reasons why it's important."
Related Links: "Under Construction" | Dietrich College | Political Science | Social History | Spanish | Fifth Year Scholar
---