Revealing Roboburgh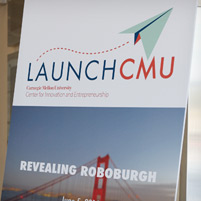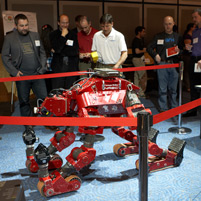 CHIMP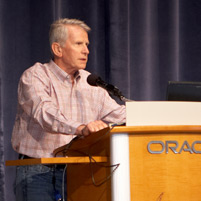 Ray Lane
LaunchCMU's latest cycle shone a bright light on how robotics technology originating at Carnegie Mellon University is making a successful impact in the marketplace.

The Silicon Valley showcase of cutting-edge technology, research and innovation brought together venture capitalists, investment experts, CMU startups, faculty and alumni.

Ray Lane, chairman of the Carnegie Mellon Board of Trustees, distinguished entrepreneur and Partner Emeritus at Kleiner Perkins Caufield & Byers, made a surprise visit during the June 5 event at the Oracle Conference Center in Redwood City, Calif.

Now in its third cycle, LaunchCMU is spearheaded by the Center for Innovation and Entrepreneurship. The theme for the event was "Revealing Roboburgh."

The program allowed for extensive interaction between the attendees and included a series of talks by the founders and current executives of successful startup companies associated with CMU, including Anki, 4Moms, Blue Belt Technologies Inc., Platypus, IAM Robotics LLC and TerrAvion.

Robert Daley, co-founder and CEO of 4Moms, a company that makes high-tech baby gear, challenged attendees to "divorce themselves from the concept of humanoid robotics" as promoted by popular media. He noted the highly successful application of technology in his company's products — including power folding strollers that regenerate their energy during use and an infant seat that replicates the soothing motions that parents make — as prime examples that robotics doesn't need to have a human form to effectively serve humanity.

Anki co-founder and president Hanns Tappeiner shared insights on market segmentation and how his company identified the opportunity to deploy new technology in products for the toys and entertainment industry. Their initial product, Anki DRIVE, an interactive battle racing game, has introduced an unprecedented level of gameplay, interaction and depth into a physical form — essentially, a video game brought to life. Gameplay also has created a wealth of data that is useful in understanding player behavior and extremely valuable in the development of future products.

Innovations destined to make an impact in the marketplace are in continuous development at Carnegie Mellon.

Manuela Veloso, the Herbert A. Simon University Professor of Computer Science, explained the symbiotic autonomy of human and robot interaction, noting the enjoyment and amazement that her visitors realize when they are led through the corridors to her office by a robotic escort.

She noted that there are service tasks, including transportation and other assignments, like mapping wireless signal coverage, for which autonomous robotics technology is ideally suited. The point was reiterated by Paul Scerri, president of Platypus, a CMU technology-startup that uses autonomous boats to collect water information.

One highlight of the showcase was CHIMP (CMU Highly Intelligent Mobile Platform), a robot built to compete in the DARPA Robotics Challenge and developed by the Tartan Rescue Team under the auspices of CMU's National Robotics Engineering Center. The robot, which qualified for the DARPA challenge finals to be held later this year, exemplifies how robots can be designed to work in dangerous environments.

Attendees also had an opportunity to mix and mingle with the creators and executives of startup companies recently created by CMU students and alumni during an afternoon poster and demonstration session and evening reception. The application of emerging technologies in health care, manufacturing, industrial safety, fashion, entertainment, education and other key market sectors were displayed by more than two dozen startups including: Algorithmia, BandPass, Care Across, Collected, EdOptimize, Heragen,  IAM Robotics LLC, iBreathSports, NREC: National Robotics Engineering Center, OpenCurriculum, PECA Labs, PRHQL, PieceMaker, Qualaris, Road Rules, SemanticMD, SoluNova, Tailored Fit, Tartan Rescue: CHIMP., Trance and Zen Rez.

Overall, LaunchCMU demonstrates the health and vitality of technology, innovation and entrepreneurship across campus and throughout the alumni community. In 2013, a record 36 startups were produced by CMU's award-winning faculty and students. More than 1,000 companies have had roots at CMU. These companies create jobs across the United States and internationally, with the highest concentrations in Pittsburgh, Silicon Valley and India.

LaunchCMU sponsors include Latham & Watkins, Oracle and Deloitte. The next showcase will be in fall 2014 in Pittsburgh.
Related Links: Center for Innovation and Entrepreneurship | LaunchCMU
---