New Geography Of Innovation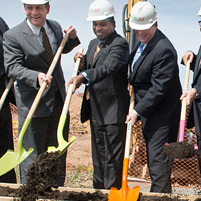 4/17: President Suresh joins local Pittsburgh officials for the groundbreaking of the next phase of the Bakery Square development, home to Google Pittsburgh
Carnegie Mellon University is one of the primary reasons why Pittsburgh is a model for economic prosperity, not only in the United States, but around the world.

At a recent event in D.C., academic experts and government officials shared that message of innovation-fueled job growth that happens when research universities collaborate with government and the private sector to accelerate discoveries from the lab to the marketplace.

"We're grateful that CMU has impact on the common welfare of our country," said Sen. Robert P. Casey Jr. who spoke at the event titled "The Research University and U.S. Economic Growth: Is a New Model Emerging?" "And one of the reasons you have that impact is because you have not allowed southwest Pennsylvania to wait for the future, you have helped to invent it."

Bruce Katz, vice president and director of the Metropolitan Policy Program for The Brookings Institution, said what the U.S. needs is an economy fueled by innovation.

"What that requires us to do is to shift our growth model in the U.S. from an economy that was really characterized as consumption and debt and financial mischief to an economy that you've built in Pittsburgh," he said.

"You have essentially invented the model, not just for regional transformation but for national transformation … You've created in Pittsburgh a new spatial geography of innovation. Because talented workers want to be in places where they can live, work, play; and firms want to be close to other firms and anchor institutions where ideas can be shared and commercialized for the marketplace."

The event is the latest in CMU President Subra Suresh's inaugural year series. Honorary co-hosts were Sen. Casey, Sen. Pat Toomey and Rep. Mike Doyle.

Doyle said that the biggest lesson to draw from Pittsburgh's renaissance is that economic growth is driven by technological change.

He added, "The best way to promote more rapid economic growth in the country is for the federal government to invest more in research so that we can maintain America's leadership in innovation."

President Suresh, himself a new arrival in Pittsburgh, found the role that research universities like Carnegie Mellon and the University of Pittsburgh play in the economic transformation of the region very appealing. "What happened with Pittsburgh as a model can potentially be used in other parts of the country, perhaps other parts of the world," he said.

National media have been following the Pittsburgh renaissance, including Politico.com, which recently wrote "Pittsburgh has developed into one of the country's most vibrant tech centers, a hotbed of innovation … [owing much to Carnegie Mellon's] well-honed mix of underdog pluck and algorithmic brains."

Several entrepreneurs from some of Carnegie Mellon's spinout companies were part of the conversation, noting Carnegie Mellon has created more companies per federal research dollar than any other university in the United States.

One of them was entrepreneur and faculty member Jay Whitacre, an associate professor of Materials Science and Engineering and Engineering and Public Policy, who shared the history of his company Aquion Energy.

"The story here is university, government, venture capital, coming together around an idea or a concept and a group of people to make something happen," he said.

Andrew Moore, vice president of Google's Pittsburgh engineering office, who will be returning to CMU as the dean of the School of Computer Science in August, said that Google understands that to be the best it has to attract the best people. That's the reason, he said, it chose Pittsburgh in 2006 in which to open an engineering office.

"The Pittsburgh office, thanks to the existence of Carnegie Mellon and the University of Pittsburgh and the sort of environment we have in Pittsburgh, was a very easy decision to start up," Moore said.

Now that he is coming back to CMU, Moore, and many others in Pittsburgh, are excited to see what other things CMU can help start up. The full symposium is archived online.
Related Links: Politco.com, "The Robots That Saved Pittsburgh" | School of Computer Science | Tepper School of Business | Center for Innovation and Entrepreneurship | Washington Posts | Partnering Innovation and Entrepreneurship | Pittsburgh 'on the rise' in Bakery Square | Video: Groundbreaking at Bakery Square in Pittsburgh
---