Abuzz with Brilliance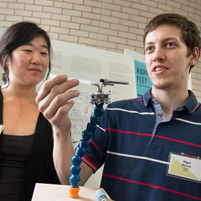 Shirley Wang and Nigel Alcorn discuss their device, which helps women with hand tremors apply makeup.
It's not unusual for the Jared L. Cohon University Center to be buzzing with activity.

But enthusiasm for undergraduate research at Carnegie Mellon University pushed the energy to peak levels on May 7, when students from all disciplines displayed and discussed projects at the 19th annual Meeting of the Minds Undergraduate Research Symposium.

Nearly 500 students presented on research topics that crossed disciplinary boundaries and extended beyond the university. Projects investigated history, expanded knowledge about behavioral health issues and built machines and tools to improve the human experience.

Sonal Chakrasali (A'14) and Kevin Kan (A'14) researched opportunities for a beekeeping club to engage the public. The students proposed transforming the Burgh Bees Community Apiary into an engaging public space with an exhibit to teach visitors about pollinators, beekeeping and sustainable agriculture.

John Ra (S'15), a junior studying biological sciences and psychology, and his project partner Luke Masa (SHS'16), started their research with a question.

"We didn't know if volunteering more leads to better health, specifically cognitive functioning, or if healthy people volunteer more," Ra said. "As a volunteer myself, I saw that the older adults who were active volunteers seemed to have better health, and I wanted to test this hypothesis and it led to this project."

Participants for that project were drawn from the Osher Lifelong Learning Institute (OLLI) at CMU and the University of Pittsburgh through advertisement. The study results could provide evidence that initiates new discussion on the topic.

Shirley Wang (A'14) and Nigel Alcorn (A'14) developed a tool to help women with hand tremors apply makeup. The device, which was on display for demonstrations, enables users to apply cosmetics with better accuracy, based on their desires as opposed to body restrictions.

"It gives women their independence back and frees them from relying on others to complete tasks that they were once able to do entirely on their own," Wang said.

Alcorn said while high-tech means could have solved the problem, they focused on simple mechanics for a low-cost solution.

"It's not as accessible when it's being implemented with more expensive and difficult to manufacture technologies," Alcorn said.

Stephanie Chen (DC'15), Priscilla Kim (DC'16) and Seth Schlisserman (SHS'16) explored the evolution of romantic relationships in people with Type 1 diabetes.

The students studied how disclosure and partner reaction were related to such factors as life satisfaction, relationship satisfaction, stress levels and mental health.

Kim said she found the whole undergraduate research experience invaluable.

"Overall, this study has given me the opportunity explore my interests of social health and how research is conducted in the field of psychology," Kim said. "While working on the project, you also build close relationships with the faculty."

Emily Gibson (BHA'14, concentrations in history and drama) researched the history of Carnegie Tech's Department of Dramatic Arts, which was the first degree-granting theatre program in the U.S. Gibson mined the historical archives both in Pittsburgh and in Tuscon, Ariz., to create an exhibit and to write a research paper that highlights the pioneering past of the School of Drama — it is especially timely because the School of Drama is celebrating its centennial this year. Her project can be viewed online at Incubatorandpioneer.omeka.net.

Richard Shanor (E'15) pursued his hypothesis that an extensive network of interconnected caves exists below lunar and Martian surfaces. These cave networks might shelter humans against harsh moon elements, and subsurface caverns may be the best place on Mars to find life.

Guided by William "Red" Whittaker, the Fredkin Professor of Robotics, Shanor developed a robot that traverses cables and lowers exploration devices into pits and caves.

"I've always been interested in space. I've always loved expanding my horizons and really pushing the boundaries. And this was a new topic I knew nothing about," Shanor said. "Red got me interested. He really showed me how much I could do if I just jumped in and got involved. I loved working with him so much that I then applied for and received a SURF grant from the school to continue working on the project last summer."

Summer Undergraduate Research Fellowships (SURF) fund undergraduates at CMU for 8–10 weeks of summer research in any field of study. Similarly, Small Undergraduate Research Grants (SURG) provide grants for materials and supplies to undergraduates at CMU for research in all fields of study.

Alcorn said one of the things he enjoys most about being at CMU is that everyone around him is always working on something new and interesting.

"It's a very ambitious culture, and I feel stimulated to push myself because I am around so many people who are being so productive with their talents and their education," Alcorn said.
Related Links: Meeting of the Minds Video | Undergraduate Research Office | SURG | SURF
---